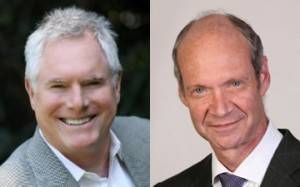 We're right on the corner. And right on the price. Cal Worthington and Tesla
By Paul Wiefels and Andrew Salzman
The Chasm Group
If you lived in California during the last forty years, you most certainly saw Cal Worthington and "his dog Spot"–often not a dog but a horse, exotic cat, parrot, or other such creature–on TV at any hour night and day promising "better wheels and better deals" at one of his many American automobile dealerships in southern, central, and northern California.  Cal was a decorated war hero who built a car retailing colossus selling thousands of new and used cars each month making himself very wealthy in the process.  Cal departed this mortal coil last year for the big model year clearance sale in the sky.  He revolutionized car retailing by offering literally acres of inventory (land was cheap); and "attractive" financing, often to people who did not have easy credit access otherwise (money was expensive).  He kept his service bays open on Saturday.  He added value.  He earned his money.
We wonder his take on car retailing today and specifically on the recent goings-on in New Jersey.   This month, New Jersey state auto dealer lobbyists convinced Gov. Chris Christie that Tesla should not be allowed to sell direct to consumers absent state legislation that would permit it.   New Jersey joins four other states in its ban, notably Arizona, Maryland, Texas, and Virginia, with the Greater New York Auto Dealer Association hot on their heels.  Tesla has vowed an appeal but its two NJ stores are now at risk.
All of these bans have been justified with arguments like "ensuring consumer protection", "preventing job losses", and "securing state sales taxes".  Nothing like a new business model to scare the pants off the status quo.  Just how do auto dealers protect consumers?   How do they add value today?  How do they "earn" the right to stand between a manufacturer and a consumer?
In Cal's heyday, car pricing was mostly opaque to the customer.   Car salespeople did whatever they could to disguise every source of dealer profit: from the actual invoice price, to the mark-ups of the options and accessories ("Really, undercoating can preserve the life of your investment, even in southern California.").  In short, they had information and inventory.  For the consumer, finding pricing information was time-consuming and often difficult to obtain.  Finding just the right model with the right options and at the "right price" was often an exercise in futility.
When such imbalances exist between seller and buyer, advantage accrues to the seller, and significantly so.  Cal promised "thousands off the MSRP or Kelley Blue Book."  While possibly true, this was difficult to verify.  Moreover, few shoppers realized that on a per vehicle basis, they were actually paying a significant portion of Cal's inventory financing costs, his advertising, the cost of shipping vehicles to his dealerships, even the cost of readying them for sale, for this was built into the price of every new car.  What's more, Cal's success at "moving iron over the curb" afforded him sizable manufacturers' allowances and incentives to move even more inventory, including those lime green models that nobody wanted.  And the sales model?  Did consumers really enjoy that back and forth tango with the salesperson that often dragged on for hours, accompanied by obscure four-square financing diagrams, and the oft-repeated phrase "let me see what we can do."  For most, prolonged time in the dentist's chair probably seems more attractive.  Not surprisingly, despite "slashing thousands off the manufacturer's price!" Cal and his brethren did just fine, thank you.
The Internet changed everything.  Vehicle pricing and inventory availability –from anywhere – is now transparent.  The scams have been exposed.  The dealers more humble.  There's no argument that they still make a fine living, provide good paying jobs, and are coveted by city governments everywhere owing to the taxes they pay.   But beyond this, do they really add significant and irreplaceable value to the car shopping public?  Value such that their business model is institutionalized and protected by law?  We invite you to be the judge.
Independent dealerships claim they add value through their model knowledge, their service departments, their "customer service" and their ability to offer attractive prices?  How do they do it?  "Volume!" they cry.  But do they really?  Can we find out virtually anything about any brand, any model, at any price point?  Yes.  Do new cars break that much?  No.  Can we get them serviced at any authorized dealership while they're still on warranty?  Yes.  Do some warranties pretty much cover the life of the car?  For some of us, yes.  Can we look for exactly the model we're interested in via myriad websites and compare prices?  Sure.  So we ask again, what unique value do they add now such that their status should be protected by the state?
Enter Tesla, a company that has elected a direct-to-consumer model and dares to disintermediate independent and/or franchised auto dealerships that, perhaps, add cost without providing obvious and commensurate value in kind.  Dealers still put MSRP stickers on windows filled with confusing fees and heavily marked up extras.  Tesla tells you the price upfront. No negotiating, haggling, or confusion.  Typical car dealers provide showrooms and plain vanilla test drives for anyone with a license.  Tesla arranges personalized appointments for buyers to test drive exactly what they may want to buy based on prior discussions regarding their needs, preferences, and buying time frame.  Both dealers and Tesla an arrange financing, but dealers make money on financing with no value in kind.  Tesla refers buyers to preferred lenders and offers a buy-back guarantee at fair market prices when a loan is paid in full.
At its heart, Tesla is a tech company that happens to produce and sell cars.  They choose to sell them like Apple sells its computers or Williams-Sonoma sells their wares.  Or, for that matter, Gap sells theirs.   With Tesla, you get a premium product at a fixed price, without pricing opacity or intermediaries nibbling at your wallet every step of the way.  You get a closed system or "walled garden" that ensures all aspects of the buying and owning experience are managed to deliver complete buyer satisfaction.  The "whole product solution" is thought through, with Tesla providing consistent upgrades at no charge over the web and free charging stations when on the go, reminiscent of Apple's free Genius bar.   Note that Apple has chosen a reseller model for some of its products.  Not surprising.  There is merit to widespread distribution for products that do not require any kind of "detailing."
To be fair, some enlightened auto dealerships have adopted a similar model.  But watching dealership associations or any trade association seeking to protect their own turf by throwing money at susceptible politicians, many of whom resemble human slot machines, reminds us of HBO's hit show Boardwalk Empire.  If a third-party adds genuine value, is transparent more or less about the price for that value, and gives the buyer choice in paying for that value, fine.  For distribution models rooted in "I know something you don't; I control supply access or hold territorial rights and you don't; and, I collude with others like me to do similar," disintermediation is simply inevitable.  In the medium- and long-term, Tesla and those similar will win the battle as consumers vote with their wallets over the status quo that has outlived its usefulness.  If you live in New Jersey, it's pretty easy to shop in New York, Connecticut, Pennsylvania or wherever actually, for a big ticket item.   We have all been witness to the Darwinian aspects of business model evolution.  We have seen the extinctions.  Why not this one?
We can't "go see Cal, go see Cal, go see Cal" anymore.  Frankly, we miss him.  We can't quite see a Stetson-wearing Elon Musk astride an elephant called "Spot" in a :30 second spot replete with a corny music track making his pitch in front of a Model S.  Business model aside, more's the pity.
Paul Wiefels is a managing director and original partner in The Chasm Group having joined Geoffrey Moore at the inception of the firm. He provides counsel to companies and organizations—from start-ups to the Fortune 500—in the areas of corporate, business, and market development strategy and specializes in marketing and positioning strategy. He is the author of The Chasm Companion: Implementing Effective Marketing Strategies for High Technology Companies, published in 2002 by HarperCollins. Mr. Wiefels' global clients are recognized leaders in their fields including Adobe, Agilent, Chartered Semiconductor, Citrix Systems, Hyperion, Intel, Juniper Networks, Microsoft, OMX AB, and Opera Software.  He can be reached at pwiefels@chasmgroup.com
Andrew Salzman is a principal with the Chasm Group, a strategic market consultancy founded by Geoffrey Moore and devoted to helping companies transition disruptive technologies into material businesses. He can be reached at asalzman@chasmgroup.com or 415-812-1925.