The CMO's Guide to Hiring Marketing Stars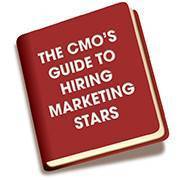 This little eBooklet has the power to impact the trajectory of your career… because it will dramatically improve the way you approach hiring and team building!
OUR SPECIAL OFFER: In addition to the attached eBooklet, for a very limited time we will collaborate with you and your team to craft a unique position brief for any single senior level marketing assignment at no charge. Because we work exclusively in the marketing world, the perspective and insight we bring to this complex process has been part of our "secret sauce" for decades.