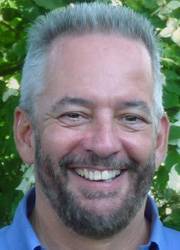 Mark McLaughlin, President McLaughlin Strategy

It's time for marketers to start treating the giant media corporations the way that they used to treat the giant holding companies. When given solid strategic direction, media companies can organize their many distinct assets around the needs of the marketer. Media agencies still have a very important role to play but it is not the role of media strategist anymore. The marketer has to take on that role and properly engaged media companies need to be more supportive.
How Did We Get Here?
1996 to 2016 represents two well-documented decades of upheaval for marketers and agencies because the digital era changed consumer behavior dramatically. Everybody knows that.
What gets less attention is that two other critical changes occurred during these two decades:
Agencies changed. Media departments unbundled from the full service agency to become independent companies with their own P&L. The holding company business model swamped the private agency model because of the value of aggregating media agencies.
Corporations changed. Financial managers took a more hands-on roll in the agency review process and the agency contract negotiation process. As procurement executives came to understand what media agencies were, they got much closer to the practice of buying media for the best price.
So, even as the consumer was changing, marketing executives were confronted with internal and external changes that impacted their ability to stay focused on the consumer. Each change started out independently but unintended consequences would bind them together over time.
Insidious change reached an inflection point in 2015 and 2016. A shockingly large number of media agency reviews by big marketers plus the two reports produced by the ANA – the K2 Media Transparency Report and the Ebiquity "Prescriptions, Principles and Processes" Report – confirmed that the old media agency as middle-man model needed to evolve quickly.
Here are some of the unintended consequences that led to this inflection point:
Financial managers observed that media planning and media buying were sourced from the same 3rd party provider. That violated a basic conflict-of-interest principle.
Unbundled media agencies realized that buying assignments scaled very profitably while strategic services required lots of additional (and very expensive) senior executives to be added to staff for every new client won.
Procurement executives and media agency directors were locked into very intense contract negotiations but, without realizing it at the time, both sides were ready to compromise resources devoted to communications strategy. Strategic services eroded quickly without too much thought to the long-term implications.
In 2006, Broadband passed 50% of USA homes and Google published the Chubby white paper. The Internet that marketers and media agencies thought they were preparing for from 1995 to 2005 would now explode outside of the previously imagined boundaries.
Despite misleading headlines describing "the death of TV," the revenue sources that drove explosive growth for digital advertising were sourced from direct mail, yellow pages, classified ads in newspapers and telemarketing budgets.
Digital media agencies grew dramatically but they misunderstood their role. The top executives were digitally sophisticated but they were marketing novices easily seduced by the simplicity of applying direct response metrics to banner advertising.
Collectively, these changes created an intense focus on price and direct response metrics. The strategic bridge between the marketer's higher level business objectives and the media tactics got severed. ROI analytics went digital but the strategic discipline of media planning fell by the wayside.
2015 and 2016
2015 began with the big holding companies thinking it was business as usual but by June, Maurice Lévy had coined the term "reviewmaggedon" and Sir Martin Sorrell called it "mediapalooza" as they grappled to explain the stunning level of media agency reviews that were kicking into gear simultaneously.
The scale of these media agency reviews and changes was mind boggling. One major TV network estimated that 35% of the money placed during the 2016 Upfront negotiations had turned over from one agency to another in just one year!
In 2016, The ANA and the 4A's went to war in the trade press. These co-dependent organizations had always resolved their differences behind closed doors but now things were different.
In June of 2016, the ANA released the "K2 Media Transparency Report" and the problems were now out in the open. This report revealed just how ugly the situation was and it became clear to the industry that the wave of agency reviews was not an outlier; it was a sea-change.
In its wisdom, the ANA anticipated that defining the problem would not be sufficient. On the heels of the K2 report, the ANA published a document detailing how advertisers should move forward. The report is "Media Transparency: Prescriptions, Principles, and Processes for Advertisers." While much of the report is about contracts, auditing and transparency best practices, a bigger message surfaces which is that the advertiser needs to take more responsibility for media strategy:
"Advertisers should take ownership of data and exert control over the media technology used on their behalf."
 "Advertisers' media planning decisions should be guided by a range of research and data sets which are transparently sourced and are understood by advertisers."
The challenges were not created by the marketing executives and yet the burden of responsibility for long term change on the other side of the inflection point fell right into their laps.
The Legacy Paradigm is Broken
The old paradigm that connected marketers to media companies via their media agency worked very well in the analog era. It looked like this:



In this model, information from the media companies flowed into the media agency through fire hoses. The information was strategic (audience insights) and transactional (marketplace pricing). The agency provided a valuable service by filtering out the vast majority of this information before passing only the most relevant and useful information through to the client using a straw. The "straw" was called the Media Plan. Marketer's treated this plan as a proprietary investment strategy with serious implications for their brand(s).
The model worked because the agency's filter was strategic. Sophisticated and experienced agency executives developed a deep understanding of the marketer's consumer and their advertising objectives and then used the client's unique needs as the filter.
The model was built on trust. The erosion of that trust was a central element of the insidious change described earlier. The agency holding company trading desk fiasco was the last straw, but the breakdown of trust between marketers and their agencies had been building insidiously for 20 years.
It was a good model while it lasted but it is broken now.
A New Paradigm
Marketers today have good reasons to be feeling optimistic about putting a new paradigm in place for these reasons:
Procurement and marketing executives are working harder to find common ground. Controlling expenses and investing in growth are usually in conflict but a constructive process is emerging that makes executives smarter and their companies stronger.
The confusion and conflicts related to media agencies has been drawn out into the light by the ANA. By acting collectively, the ANA made it possible for each individual CMO/CTO to zero base the best way to work with media agencies.
Internet advertising can now be planned dispassionately with a clear understanding of strengths and weaknesses just like all other media channels. The pressure to chase the new new thing just because it is new is greatly reduced.
"MarTech" is profoundly changing the game with new tools and resources that empower marketing executives like never before. Data is becoming useful for application to media strategy, not just for direct response ROI analytics.
One untapped benefit of MarTech is that data stored in the cloud makes it efficient for marketers to absorb a lot of information directly from big media companies.
But, one big gap remains. The process of translating marketing strategies into media investments is too often a direct leap into tactics and that is inefficient no matter how cheap the CPM's or the clicks may be. The art and science of media strategy is a lost discipline. It's become clear that media strategy needs to be an in-house area of expertise for marketers.
Marketer's need a new model that looks like this: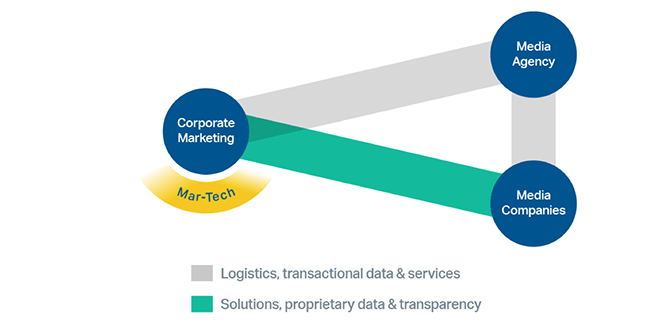 In the new model, the media agency's role remains critical. The media agency continues to provide the services that make them irreplaceable – media pricing analysis, channel tactics and buying, campaign logistics and billing reconciliation. It's still a huge job that is very hard to do and no other entity is investing in the ability to absorb this work.
How to Succeed with the New Paradigm
In order to make media strategy a core part of the corporation's best practices, the marketing department and an executive team led by the CMO can take the following steps.
Create and empower a small team of stakeholders. The team's mission is to improve the strategy that drives media investments and to develop KPI measurements that track brand equity and sales performance, not just sales ROI in a vacuum.
Refresh or create tightly articulated media objectives and strategies that the advertising budget is intended to fulfill. This is the time to focus on how advertising investments are tied to the brand's business objectives.
Review and define what you want your media agency's services to include and NOT include. This is channel specific work. The needs from the agency for local radio buying will be very different than the needs for national broadcast TV and both of those will be quite different from the needs for supporting search engine advertising.
Audit the company's media spending at a macro level, not a micro level. Which media corporations benefit the most from your media budgets? What is your company doing to maximize the quality of strategic thinking that is going on at these media companies to best align your spending to your business objectives?
Pro-actively invite a curated list of media companies to enter into partnership discussions. Marketers should brief these media companies the same way that they brief agencies by describing business objectives, marketing plans and consumer insights. Challenge these companies to break down their own silos and come back to you with a 12 month recommendation that delivers on YOUR STRATEGY.
The Pieces Are in Place
The ANA has created a level of air cover that helps the CMO. This organization is bringing transparency and accountability out into the open where both the CMO and the CFO can learn from their peers and from independent experts.
MarTech is a game changing platform. Data analytics is growing beyond direct response metrics to incorporate the value of brand equity investments. MarTech makes it possible for media companies and marketers to share proprietary data that neither party wants passed through media agency data servers.
The media agencies are responding. Better, clearer contracts are emerging quickly that define their roles and their methods of compensation.
The big media companies are sitting on extraordinary resources that will be invaluable to marketers once a more proprietary bridge between the marketer and the media company is in place.
It's been one hell of a road getting here, but a new paradigm is emerging that provides a clear and exciting sense of direction for marketers.


---
McLaughlin Strategy has helped media companies grow ad revenues for the past six years. In 2017, McLaughlin Strategy pivoted to working directly with the advertiser. The industry was redefined in 2015 and 2016 when media agency reviews by dozens of major marketers plus two major publications released by the ANA created the demand for stronger and more strategic relationships between marketers and media companies. McLaughlin Strategy now works with marketing executives who are recognizing the need to take more responsibility for media strategy in-house. Mark McLaughlin can be reached atmark@mcstrat.com.