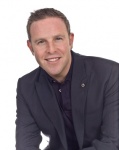 The Perfect Match
By David Zaritsky
Managing Director, Harte-Hanks
The most meaningful client-agency relationships are mutually beneficial – both organizations work together toward agreed-upon objectives. What makes a client-agency relationship click? How does a marketer know if they're benefiting fully from the partnership – or if a potential new partner will bring the right perspective, work well together with staff and other partners and deliver maximum benefit to the marketer's organization and its customers?
Whether your company is looking to engage with a new database marketing firm or examining the value of an existing relationship, there are key questions to ask related to specific subject areas.
Question 1: What Is the Agency's Focus?
When you consider a service provider as a potential database marketing partner, it's important to know where the agency's focus lies. Does it focus on its clients' customers first or does it put a heavy focus on tools, technologies and the databases it builds and sells? Overcoming obstacles, achieving your desired outcomes, and solving business challenges is where the service provider's focus should be, and this will be apparent in how the agency and its people interact with their clients and partners.
Question 2: Does the Agency Deliver Integrated, Future-Ready Solutions?
Market conditions, technology innovations and the needs and wants of customers all can change frequently and without warning. A database marketing agency's solutions, therefore, should be "future-ready" so they maintain relevance and value over time. This means that the solution and strategy in place today should be flexible and scalable enough to accommodate the changes on the horizon. Also explore if the agency has a deep understanding of how new data can and will be utilized.
Question 3: Can the Agency Create and Execute a Multichannel Strategy?
Being able to deliver an integrated – online and offline – marketing strategy and execute each component is mission-critical to any productive database marketing client/agency relationship. Some agencies are expert at strategy but fall down on the interweaving of, or execution of, individual components (research, creative, production, data management, analytics, reporting, etc.). Others are adept at execution but cannot deliver a well-conceived short- or long-term marketing plan.
An important consideration in today's environment is whether the agency being considered knows the nuances of bringing together the marketing strategy and program execution.
Question 4: Does the Agency's Vision Align with Yours?
This question is less about how a database marketing agency approaches problems and more about how it works day-to-day with clients.
For example, consider an organization that seeks to be more customer-centric, or to improve marketing efficiency, overhaul its channel mix or change what people think about it. Each of these goals, while not mutually exclusive, requires absolute buy-in from the database marketing agency to be achievable. If that partner's internal business culture and expertise doesn't align with your firm's, serious frustration is the certain result. Instead, there should be alignment and the feeling that the agency is a true extension of your marketing team if goals are to be achieved.
Question 5: Can the Agency Demonstrate Industry-specific Experience?
Marketers seeking a database marketing agency often consider experience in their industry to be a key ingredient for a successful relationship – and with good reason. An experienced partner most likely has the resources to create and launch solutions more quickly and smoothly than their less-experienced peers.
The ideal partner will have extensive hands-on experience devoted to the industry that matters most to you.
Question 6: Does the Agency Offer Scalability?
For every project and for every client, a solution is most effective if it can be deployed at the right scale, in the right place, at the right time. Doing things right is not about making the solution bigger, but about making it appropriate for the problem it's meant to solve.
Does the database marketing agency offer the ability to scale up and down as needs require? Does it have the ability to scale globally, if appropriate, reaching into new markets or placing work in lower-cost markets to bring down operational expenses? The right database marketing agency will have local, regional, national and global capabilities.
Finding and maintaining a productive relationship with the "right database marketing agency" means asking some of the hard questions. The ideal partner will likely demonstrate deep and broad industry expertise… a global footprint… and years of experience in developing and executing superior integrated marketing programs. Asking the right questions up front will help both partners achieve established goals and avoid unmet expectations.
---
David Zaritsky is group managing director for Harte-Hanks. Harte-Hanks, Inc. (NYSE:HHS), San Antonio, TX, is a worldwide, direct and targeted marketing company that provides direct marketing services and shopper advertising opportunities to a wide range of local, regional, national and international consumer and business-to-business marketers. Contact Zaritsky at 215-944-9641or via email at david_zaritsky@harte-hanks.com . Visit the Harte-Hanks Web site at http://www.harte-hanks.com .