The Changing MO of the CMO – How the Convergence of Brand and Reputation Is Affecting Marketers
By MaryLee Sachs
The principal analyst in marketing leadership at Forrester, Chris Stutzman, recently spoke at the CMO Club Spring Summit and echoed many findings from the white paper he created for his organization, "CMO Mandate: Adapt Or Perish".  According to the research, a staggering 75 percent of marketers plan to re-organize their function by the end of 2011.
It's not surprising given the rate of change and the increasing importance of reputation.  According to a 2010-2011 white paper by Prophet entitled "Reputation Winners and Losers", there is a clear relationship between reputation and brand: "Actively managing your reputation will ensure you are not negatively impacting the value of your brand.  In addition, it suggests that brand and reputation strategies should be highly linked and should not be kept in separate silos to achieve optimal results for a company overall."  So expect some silo-busting as the convergence of brand and reputation disrupts the traditional marketing model as never before, driving a more holistic approach to marketing.
The recent Cannes Lions International Festival of Creativity provided yet another marker to the blurring lines between marketing and communications.  Even the Festival organizers changed the name of this year's Festival to "Creativity" from "Advertising" which was its moniker for its first 57 years.
One of the best tweets from the Festival was "Tell me I will forget, show me and I might understand, engage me and I will remember" as reported by M&M Magazine – the telling direction of the new marketing discipline.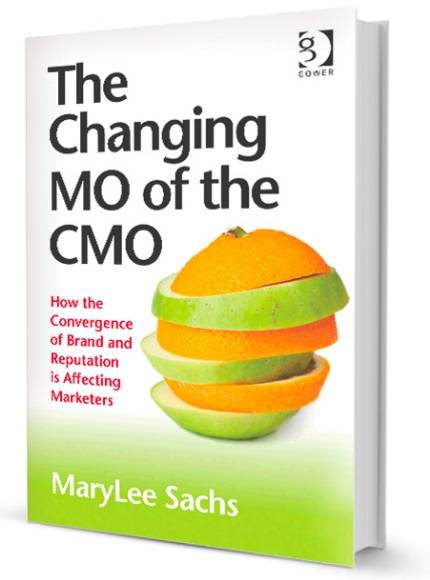 The Changing MO of the CMO examines specifically how senior marketers from both B2C and B2B organizations are blending traditional marketing approaches with communications and engagement.  The book is based on research an interviews with CMOs from leading organizations and brands.  Here follows a condensed version of Chapter 1 which sets out the context for the new marketing environment.
Chapter 1 – Setting Context
There is no one right answer to the conundrum of where PR belongs in an organization.  Much depends on the specific organization's challenges and objectives, type of business, category landscape and geographic reach.  Historical silos, culture, personalities and budgets also play factors, or can be hindrances in affecting change in organizations.
At the very least, one can assume that the traditional role of the CMO is changing and becoming more subservient to the customer, and that in turn is affecting strategy and structure across organizations.  CMOs need to be sensitive to the symbiotic relationship between the traditional control of marketing and the stimulating and feeding of conversations with the target audiences in a much less controlled landscape.  Marketing can no longer control the conversation and sometimes is even banned from it.  Target audiences as well need to be defined much more broadly than just consumers or customers to embrace employees, professionals, experts, communities, non-governmental organizations (NGOs), legislators and others.  The traditional "push" marketing model is no longer appropriate given the circles of influence that have emerged.  Conversation and participation have become vital.
Marc Pritchard, chief marketing and brand building officer of Procter and Gamble (P&G), said a year ago in the British edition of PRWeek, "PR focuses on building brands anywhere consumers engage with us.  Stories are the most important part of the marketing mix and are what we think about first.  But we will place a lot more emphasis on PR in the future, as it's one of the most authentic ways to engage with consumers."
In June 2009, P&G announced that brand-related external relations (ER) would report into Pritchard, leaving corporate-related ER reporting into CEO Bob McDonald.  Previously, all ER functions reported into the P&G CEO.  This shift was part of the formation of P&G's Branding Building Organization that "speaks to the company's commitment to both integration and investment in its brands."  As reported by PRWeek in the US (January 1, 2010), "We typically find that brand PR is the top or among the top ways that we can effectively connect with consumers," according to Chris Hassall, global external relations officer.
When Pritchard addressed the Council of Public Relations Firms' annual Critical Issues Forum in late 2010, he said, "I've seen the power of PR grow as an industry, and at P&G.  In the early days, PR was about managing issues behind the scenes.  In the late 1990s it was more important, but still an afterthought and used mostly to announce new product launches.  It was in the mid-1990s when I led our cosmetics business that I experienced the true power of PR.  I saw that PR works best when it's fully integrated into the marketing mix.  I saw how PR could build emotional connections between a brand and a consumer. I saw PR build relationships and convert people into becoming brand ambassadors…Today, in my role…we have pressed the 'reset' button when it comes to building brands, and PR is central to that transformation.  Now, more than ever, brands and companies need authentic engagement with people, and it is PR's time to shine."
According to Lauri Kien Kotcher, CMO and SVP of global brand development at Godiva, "Alignment around all brand messages is especially critical in the increasingly multi-channel environment we find ourselves in.  Marketing, selling, HR, and personal communications messages are all blending.  The number of touch points keeps growing with different timelines for message development, which also makes the challenge of maintaining consistency across key brand messages harder than ever.
Another driver of combining forces is the seemingly permanent squeeze on budgets, forcing marketers to reassess every practice and approach in an effort to get more for the money.  Interestingly, in its Forbes Insights November 2009 report entitled "The Role of the CMO: Marketing Strategies for 2010", Forbes reported that marketers with $5 million or more budgets are less likely to control PR than marketers with smaller budgets (52 percent versus 73 percent), suggesting a natural occurrence of silos in larger organizations.  Equally, whether a business is B2C or B2B may affect the thinking about where PR resides.
According to a Marketing 50 One° Report for its members entitled "Where Should PR Reside Within the Organization?" (April 2010), B2B member companies of the group were far more likely than B2C members to have PR reporting into marketing.  Interestingly, dual reporting and specific corporate communications departments not under marketing were exclusive to B2C respondents.  In this survey, three schools of thought emerged on organizational structure:
Marketing – PR is about brand and messaging, reporting to CMO
Split or Dual Report – Split PR function with "customer/product" aspect reporting to marketing or single PR function, dual reporting to corporate communications and to marketing
Elsewhere, but Aligned – reporting to Corporate Communications, but closely aligned to marketing
One of the greyest areas may be internal communications which has fallen traditionally under PR.  The varying degrees with which the brand is affected by its employees should help to inform strategy here.  For example, retailer CMOs (together with the HR function) should have some if not total control over the internal communications function, since many employees are front-of-house and the first point of contact for the brand.  They are the brand ambassadors and need to be groomed and cultivated as such.  But retail or not, employees should represent an incredibly rich vein of brand advocates.  Unfortunately, while having employees serve as brand ambassadors is viewed as valuable and vital, only a small group of companies current have a fully established program to engage them in that way.  In The CMO Club Survey with 129 CMOs concluded in June 2010, 70 percent of CMOs reported that they did not have an active employee engagement program.  Nearly half (46 percent) reported working on developing a program, and 17 percent were not working on a program at all, but plan to at some stage.  Only 58 percent of the CMOs surveyed in the Forbes Insight report claimed responsibility for internal communications.
Similarly, customer service and customer relations functions are in those grey areas.  And corporate social responsibility (CSR), historically the domain of the corporate brand and corporate communications function, has been increasingly used to further product brand goals, often providing an emotive avenue from which to connect to consumers.
There are caveats.  Heavily regulated industries like healthcare and financial services rely on the PR function for a deeper understanding of restrictions surrounding marketing communications.  Issues and crises throw everything into disarray, and a seamless link with research and development departments, operations and other business functions is critical.  Guardianship of multi-market and international brands is even more important with the advent of the global social world online.  Listening, messaging and navigating the social media environment have become even more important, since a mishap in one market can quickly affect another.
There clearly is no one-size-fits-all approach, and some organizations create and recreate structures to accommodate trading environments, current needs and personalities.  For example, when American Airlines decided to combine its advertising and PR functions into a single group under the CMO in 2003, the team believed that they would be able to capture some important synergies by combining the two, especially in how brand and corporate reputation were managed as well as addressing emerging media, sponsorships and promotions that often fell between the two functions.  During this period, the airline launched a new brand strategy and tagline – "We Know Why You Fly" – and numerous campaigns, all tightly integrated with advertising, PR, social media and marketing.  The work resulted in dozens of industry awards, including the Bronze EFFIE for advertising effectiveness, as well as significant improvement in awareness, consideration, preference and willingness to purchase scores, even during difficult times for the airline industry.
During this period, the marketing function included:  advertising/corporate communications, the AAdvantage loyalty program, the airline's website AA.com, onboard products/services, customer relationship management (CRM), reservations, customer experience and global sales/distribution, advertising sales, and in-flight products and services.
In 2010, with a new CMO coming on board, the group has been restructured and divided into two parts.  The customer-facing elements of the job were moved under a new SVP in charge of customer experience, including corporate communications (including customer communications and social media), AA.com, reservations, customer experience, and in-flight services.  All other remaining marketing functions moved under a chief communications officer (COO) in marketing, underlining a growing closeness between marketing and finance.  The CCO's responsibilities include: a new market planning function, advertising, and onboard products along with pricing/yield management, international planning/alliances, and fleet planning.
MaryLee Sachs was most recently US Chair and Worldwide Director of Consumer Marketing at WPP firm Hill & Knowlton.  She recently launched her new book, The Changing MO of the CMO, How the Convergence of Brand and Reputation is Affecting Marketers, at the Cannes Lions International Festival of Creativity on June 23.  The book is available for pre-order on Amazon.com for shipping from end-July.