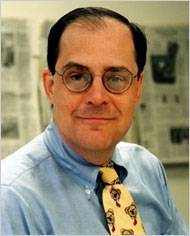 Renowned New York Times chronicler of the advertising and marketing world Stuart Elliott sits down with a Troyanos Group principal, Larry Adler, in a rare interview to give his informed perspective on some of the pressing issues facing our industry. With over two decades of reporting on the comings and goings, trends and insights and the who's who of the advertising world Mr. Elliott brings a unique understanding of the pulse of the industry and we are proud to have him share his thoughts with our readers.
Larry Adler: I'm here with Stuart Elliott, the advertising columnist for The New York Times, who has arguably been the chronicler of the world of advertising and marketing for the past 20 years. It's great to be with you today Stu.
Stuart Elliott: Thank you, thank you very much.
LA: If I may, let me begin with a really big picture question; you've seen our industry go through many cycles over the years, if you were to look back is there any time in particular that would bring a smile to your face?
SE: You mean the smile of a happy idiot or the smile of satisfaction? Seriously, as a reporter it's not my place to want or to will an industry to be in good health or bad, we cover the industry that we cover regardless of what they're going through.  There are certainly some journalists who would make the case that they prefer to cover bad times rather than good times, because there's more to write about and the stakes are higher. So it's a hard question to answer, but I would say generally speaking, now is an amazing time to be covering advertising, marketing and media because of all the massive changes that are rippling through all the different industries all at the same time. And everyone is scrambling madly to keep up with all of them. That makes for a lot of very interesting stories to write.
LA: It is an incredible time right now.  Along those lines, what would your sense be as to the kind of shop that might be best poised to meet the challenges of today into tomorrow?
SE: Well I think one of the interesting things right now is the fact that there are a variety of models out there and everybody is trying to sort out which is best for them.  You have everything from the very traditional model of an advertising agency with headquarters in New York and a global presence creating traditional advertising, all the way to the other end of the spectrum of a couple of young people in a broom closet in Brooklyn doing projects in social media and technology. The big guys are trying to get small, the small guys are trying to get big, and everybody is trying to be nimble and responsive to the new environment. It's a little bit of everything right now it seems to me.
LA: I think that's a very interesting point of view. Let's talk about the intersection of digital technology and creativity. Do you view it today as a catalyst or an inhibitor to big thinking creativity?
SE: Can you be more specific?
LA: Today with audience and channel fragmentation being so great there are so many different ways and avenues to reach people. I'm wondering if in your view that helps or diminishes the creative process because messages have to be more contained and almost instant in some venues.
SE: I think that technology only helps in the sense that it gives creative people many more outlets. The idea that an App is an ad, or a website is an ad, or a social media feed, a twitter feed is an ad, I think opens up a lot of doors to new and different ways to reach out to consumers. And of course that only reflects the fact that consumers are behaving in very different ways. They're much more willing to actively avoid advertising, skip past advertising, go out of their way to zip through it and zap it. Yet at the same time they're showing a willingness to take the time to reach out and engage with advertisers when the choice to do that is theirs and they believe that they're going to be reading or seeing or hearing content that's going to interest and entertain them.
LA: So do you agree then that it really challenges the ability of marketers to continue to effectively promote their brands in that the relationship between the consumer and brands is likely changing?
SE: It's absolutely changing.
LA: What are your thoughts about that?
SE: Well, I mean it is what it is.  The fact is that on the one hand you could look at it as very bad news for marketers in that suddenly the delivery systems that they've relied on for ad messages for decades, like the TV commercial and the print ad, are in peril as there are now ways for consumers to more easily avoid them. On the other hand there are all these new technologies and new ways to reach consumers with ad messages which I think mitigates the problem somewhat and gives marketers more opportunities to communicate and pulls a lot of bacon out of the fire. It could be a lot worse I think.
LA: One of the by products of what we have been discussing seems to have created a paradox. We know the industry along with the rest of the economy is under pressure, yet with so many more channels of message delivery it becomes almost incumbent upon agencies to have more people to do more things with the same or sometimes less dollars.
SE: That's true of everybody, the marketers have to do that, the media companies have to do that, everybody is trying to do more with less. There's no doubt about that.
LA: Would you agree that it forces greater creativity and the ability to find new ways of cutting through without breaking the bank?
SE: Yes, absolutely.
LA: Let's change course here for a second and talk a little bit about the Chief Marketing Officer, the custodian of the brand for most companies. If you were to look into your crystal ball what would you say the CMO of the future needs to look like?  Are there any particular skill sets that you see as a must have?
SE: Certainly an ability to think in a much more non traditional kind of way; being what somebody I know says is a "digital native" or can train themselves to be one as opposed to being a digital immigrant or a digital know nothing.
LA: So the lines are blurring between the tasks of the traditional CMO and the emergence of the Chief Digital Officer?
SE: Yes I think so and it's going to be interesting to see how that shakes out.
LA: Very interesting, so from your perspective, do you think that the people you see in the industry today are different than the past?  Do you think it's the same kind of mindset and personality, or are we seeing a little change in that?
SE: Well I'm generalizing but I think you are seeing people who are somewhat more entrepreneurial and are somewhat more able to function in a world where things are being changed on the fly. And that you need to have the skills to improvise and to throw your plans out the window. Being nimble is very important. I think again, to generalize, in the past a lot of people in the advertising business were very comfortable with the sort of hierarchical structure, the commission based compensation method and the traditional aspects embodied in the "Mad Men" era.  Today success is based on an entirely different mind set, skill set and awareness and understanding of how marketing and advertising is increasingly one to one. Yet at the end of the day it's still about informing and selling.
LA: What do you make of all the new titles and positions that are being created today both on the agency and client side?
SE: I think it's just another sign of the changes that are sweeping through all of these different industries. 30 years ago you had the rise of the planner and communications planning. And people thought that was a crazy title and a wacky new change for the industry; and now it is considered part of the landscape.  I think certainly people are going to have to be able to be flexible and roll with the punches and get used to titles like "Chief User Experience Officer," "Chief Inspiration Officer" or "Chief Dreamer" and things like that.
LA: Do you see a change in the nature of the client / agency relationship?
SE: Well right now I think you're seeing a lot of one offs, projects and very transactional efforts that I wouldn't even call campaigns. This of course opens the door to others.  But a lot of the time those are going on in parallel to the more traditional type of campaign that is appearing in front of consumers in multiple media. So a lot of people compare this to dating vs. commitment or marriage. It seems now that a lot of the clients are dating a heck of a lot more than they used to, but I think the nature of the new media and new technology make that much more possible.
LA: OK… take a minute to think about this if you would, if you had a child that was considering going into the agency world what kind of advice would you give him or her?
SE: I'd say this is probably a very interesting time to do that.  The agencies are looking for younger people. They're looking for young talent. They're looking for people with the skill sets and the mindset to operate in this crazy new world that we're all living in.  Unlike a lot of industries the ad industry has been remarkably, I don't know if resilient is the right word, but it's certainly been doing better than say, a lot of other industries like financial brokerage firms or auto companies or makers of Twinkies and such who have gone out of business or liquidated or had to massively cut back because of the financial crisis.  I think that there are a lot of opportunities in the world of advertising and marketing right now. It's just going to require a lot of different thinking and a recalibration of what people have been used to doing in the business.
LA: Stuart, as always it's a real pleasure to speak with you and thank you very much for giving me a little bit of time to hear your views about some of the issues that are big in the advertising world today.
SE: Absolutely, glad to do it.
---
Stuart Elliott has been the Advertising Columnist of The New York Times since May 1991, writing the weekday advertising report as well as other news articles and features. He also writes a weekly e-mail newsletter, In Advertising, for The Times Digital Company.
Mr. Elliott has covered advertising, marketing and media topics for two decades; in addition to The Times, he has written on those subjects for USA Today, Advertising Age, The Detroit Free Press and The Times-Union in Rochester, New York.
Mr. Elliott has freelanced for many publications, including Texas Monthly and Working Woman; speaks around the country; moderates panels, and has appeared on television programs like Nightline, Biography, The News with Brian Williams on MSNBC and specials on networks including The History Channel, Showtime and VH1.
Mr. Elliott received his bachelor's and master's degrees from the Medill School of Journalism at Northwestern University in Evanston, Illinois. He lives in Manhattan and his hobbies and interests include politics, popular culture, American history and nostalgia, especially old advertising.
Read Stuart Elliott's Advertising columns in The New York Times at http://www.nytimes.com/pages/business/media/index.html.