Online Marketing Success Metrics Are Changing – Are You Keeping Up?
By Lisa Hannah
Director of Marketing, Janrain
The advent of social networks, the noisy nature of the web and our reliance on friends to inform decisions have led to a shift in success metrics for a website. Today to get ahead, we need to track the
quality of visitors to our site
,
how these site visitors interact on our site
, and
how they share our content.
These new metrics are forcing marketers to create more engaging content and experiences. The only way to do this effectively requires some knowledge of the user. Acquiring this knowledge through tools that integrate social media on a site such as collecting social profile data and empowering users to share site content and activities will enable marketers to adapt and stay ahead. But, first, let's step back and take a look at
what is driving this evolution in online metrics
.
Consumers are starting to expect a social experience online. The explosion in social media marketing has led to a growing consumer expectation for sites to offer social and interactive components. If I can interact with my friends when I'm on Facebook, why can't I have the same experience on a brand website too? If I can win prizes when I play a game on a social network, why can't I win rewards on a brand site?
The crowded web is pushing sites to become more personalized. It is increasingly harder for brands to standout and gain the attention of potential consumers and advocates on the crowded web. To have any chance of succeeding, organizations need to tailor their offers and content to the individual user, but this requires a better understanding of that person.
Shortened attention spans online create a need for a frictionless online experience. For example, traditional registration forms create an obstacle to on-site engagement, and 'identity fatigue is real'. Need any evidence that people are tired of maintaining separate identities and passwords at each site they visit? Recent research indicates that 3 in 4 consumers avoid creating new user accounts, and will change their behavior as a result. 54% may leave the site altogether. And of those that register, 76% admit to giving incomplete or incorrect information. Some marketers think they are avoiding this problem by only asking for name and email address. But, really how much targeted marketing can you do with just those pieces of data?
Multiple research studies show that we turn to our friends for recommendations when we are making a purchase or looking for information. Facilitating these types of conversations through word of mouth marketing has always been the role of the brand marketer, but now there are more tools at their disposal.
These forces are impacting how we measure success online.
While we used to be focused on getting as many people to the site as possible and tracking site traffic, today it is much more important to get the
right people
to our site. The
quality of site traffic
has become more important than just the quantity. We also used to concentrate on just increasing time on site. Now we want qualified visitors staying on our site, but we also want them
interacting on our site
. Whether it is commenting, writing a review, listening to a podcast or a music download, we want them engaged and participating. Tied to this is the concept of page views. The number of pages a site visitor viewed used to be paramount. Today we want them go one-step further and
share their on-site experiences with their friends and social communities
. Whether through email, twitter, posting to their Facebook wall or another social network, we want our users to spread our content across the web. It's tough to offer personalized offers and information without knowing who is on the other side of the fence. And no one is going to share content that they don't find personally interesting. While marketers have tracked user metrics in the aggregate historically, now we need to know more on an individual level – who are they? What are their interests? How can I motivate them or influence their behavior?
This is where new social tools and technology enter the picture.
Social login
enables a website to shelve or augment its traditional registration process in favor of a faster and easier way to sign-up a user. Instead of filling out a form, the user can select a social network or email provider to initiate the process. Facebook Connect was one of the first pioneers in this space, but
not all of your users are on Facebook
, so it makes sense to offer a choice of providers to ensure maximum coverage.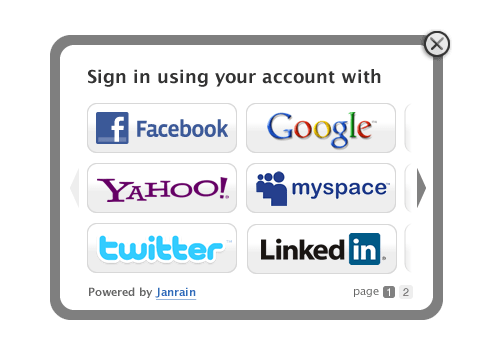 The user is now signing up on your site using a few things he/she already has – an active account with a social network that includes contact information and a profile with demographic data and interests. Even if the social login does not provide you with all the information your site specific sign-up form needs, you can speed up the process by pre-populating the form with an email address, name, gender, location or other data fields. The improved user experience that results from bypassing lengthy traditional registration processes will be reflected in higher conversion rates. The other big win is the profile data. Not all providers are created equal in this regard – Facebook and LinkedIn can pass over 50 fields of data, whereas Twitter or Google will pass a smaller set. As mentioned above, 76% of US consumers admit to giving false or incomplete information on a site form. With a social login, the profile data is more likely to be accurate since it is part of the user's social network persona. This
social profile data
can tell you a lot about your user – the very type of information that can power successful targeted campaigns and offers.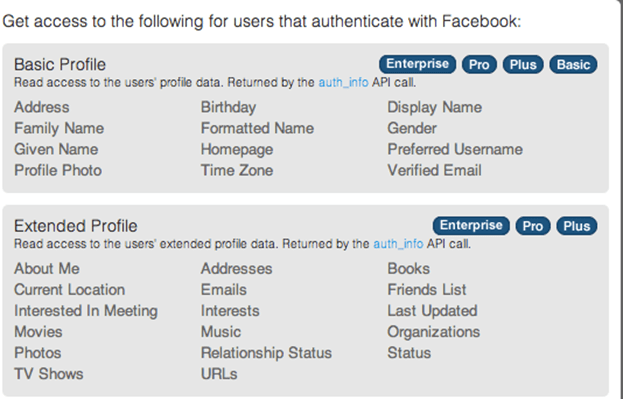 Site 'stickiness' is a concept that has been around for a long time and is even more important in the context of creating interactive experiences that the user wants to share with his/her friends. 
Social sharing
tools give marketers the ability to connect their brand site with the social networks of their users. Now when a user writes a comment, rates a product, makes a purchase, writes a review, or unlocks a badge, he/she can automatically share that activity with friends on multiple social networks simultaneously, all without leaving the brand site.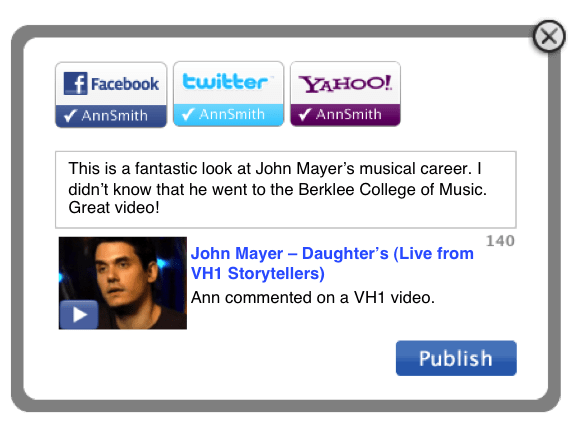 The comment in the example above shows up on the user's Facebook wall, Twitter stream and Yahoo updates. With one click, the user has spread the site's content. When you consider that many sites see an average of over 13 referral visits to their site for each user-generated post, it is clear that social sharing is a powerful way to grow site traffic. And it is most likely the right kind of site traffic since it has been pre-qualified for you by a user. The rise of social and its impact on consumer expectations and behavior has created new opportunities for marketers to build more profitable online relationships with their users. As a result, how we measure success has evolved beyond traditional metrics for site traffic, page views and time on site. The focus today is on the individual user and creating engaging on-site experiences that they want to return to and share with their friend. New social tools for acquisition and engagement are available to help marketers succeed online.
Lisa Hannah is the Director of Marketing at Janrain, a company that helps organizations succeed on the social web with its user management platform.  She can be reached at lisa@janrain.com.