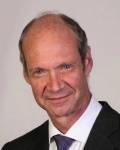 Marketing & Sales: 8 Easy Pitfalls to Avoid
By Andrew Salzman, Principal, The Chasm Group
I recently spoke at the Sirius Decisions Summit in Nashville…a marketing & sales mecca for all things marketing automation, CRM, and marketing tech attended by thousands of senior executives from companies large and small. On display in abundance were the latest technologies all purporting to ensure customer intimacy, improved pipeline volume and velocity, and greater alignment between marketing and sales.  My speech topic, interestingly enough, was to address a recent Televerde survey result revealing that 60% of marketing and sales pros are not aligned on customer engagement strategy. Pondering this for a moment, I recalled my days as a senior marketing operative and all the barbs frequently exchanged between these two critical functions divided over the issue of how to engage customers. What do marketing people typically say about sales people?  "We do all the work; they get all the credit", or, "They don't work our leads in timely fashion".  And what do sales people say?  "That messaging crap is worthless", or,  "The leads suck."  Hmmmm.  As the Prison Captain said to Paul Newman in the 1967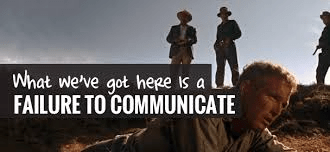 movie Cool Hand Luke, "What we've got here is a failure to communicate". Communication and collaboration between Marketing and Sales, with each other on behalf of customer success, should seemingly be easier than ever with all the latest marketing technology out there. Not so.  Herewith are my top explanations for why this problem persists, and what to do about it.
Failing to collaborate in defining the target buyer. At Chasm Group, we often work with cross-functional leaders to develop a customer and market-centric view of the economic buyer, using before and after scenarios templates to depict life with and without our client's solution.  We help companies create rich, highly detailed buyer personas.  We talk to customers and prospects.
Failing to define who owns each sales funnel stage. When there is confusion as ownership over each stage of the funnel, chaos often ensues.  Bombarding customers with disparate or conflicting information.  Interrupting deals in progress.  At Chasm, we work with Marketing and Sales to create clear rules of engagement throughout the funnel, precisely mapping every step of the buying process.
Messaging from the Ivory Tower. Sadly, too many marketing people do not ride along on sales pitches, or serve as executive sponsors for customers, or participate in a client pitch, or interview customers through live conversations.
Failing to map sales content from opportunity to close. Marketing should carefully consider what they create, and in doing so, make sure they ask Sales what they really need.
Failing to precisely define when leads get handed off. Here is one area where marketing tech can help.  Using codified lead definitions like BANT (budget, authority, need, timeline), rules engines, and having a continuous improvement process in place can ensure that Sales receives truly qualified leads they can act on.
Failing to create mutual SLAs. Marketing and Sales teams that work well together have mutual commitments they must live up to.  Marketing should sign up for a quota of qualified leads.  Sales should commit to timely follow up on all marketing-generated leads.
Failing to create an ongoing feedback loop. How can Marketing and Sales improve lead gen and deal closure in the absence of regular conversations about what's working and what's not.  Nuff said.
Failure to meet face-to-face. Despite the many blessings of email, it is a highly imperfect mode of communication at best.   Marketing and Sales should meet face-to-face on a weekly basis, and if not possible, by Skype or phone.  More strain has been caused by miscommunication and unintended tonal issues tied to email.
Communication, collaboration, and shared accountability.  This is the stuff of great marketing-sales partnerships.
Andrew Salzman is a principal with the Chasm Group, a strategic market consultancy founded by Geoffrey Moore and devoted to helping companies transition disruptive technologies into material businesses. He can be reached at asalzman@chasmgroup.com or 415-812-1925.