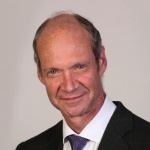 Is It Possible to Come Back from the Dead?
By Andrew Salzman
Principal, The Chasm Group
Kodak and Polaroid.  DEC and Wang.  GM, Ford, and Chrysler.  Eastern and Northwest Airlines.  Borders, Barnes and Noble, Businessweek and Blockbuster. Companies that were once dominant market leaders who are no longer.  These companies were leaders in mature, established cyclical growth markets, where power shuffles back and forth among vendors. But the pace of change is merciless and secular change is on the rise.
In secular markets,  a one time only market expansion occurs when a new category or new class of customers arises.  Usually fueled by technology, these changes require a new set of skills and metrics, and a whole new approach to planning.
Traditional operationally-driven planning approaches that look back at last year's plan, set quotas for the coming year, ask for bottoms up input, and finally move on to reconciliations to form the basis of next year's plan may work in cyclical markets, but are doomed to failure in secular markets driven by disruptive thinking and innovation.
The game changers indeed change the game…fast!  Apple, Facebook, and Google changed telephony, social networking, and search fast.  But what can be done at today's cyclical growth companies when secular change looms.
24/7 Wall Street predicts 10 brands that will disappear in 2012.  The list includes Nokia, Soap Opera Digest, mySpace, Corn Pops, Sony Ericsson, Sears, American Apparel, Saab, A&W, and Sony Pictures.  Yes, these companies are in trouble.  But are they all doomed, or can they be brought back from the media-pronounced dead?
A few can!  Think back to Cisco and Sybase, Agilent and Cognizant, Autodesk and Synopsis, Rackspace, Adobe, and Qualcomm to name a few.  Rather than doing the "same old same old" operationally-driven planning, these companies looked outside in, taking a market and customer-driven perspective to strategic planning and resource decisions.  They aligned around a common vision that meant something to people other than themselves.  They committed to a strategy aligned with a vision rooted in megatrends.  And they allocated resources in assymetrical ways to create customer success and drive out competitors.
Taking an outside in, market centric perspective, those who will come back from the dead will profile trends and opportunities that can create net new sources of wealth.  They will do strategic planning based on category power, company power, market power, offer power, and execution power considerations before the usual operational planning land grab for resources.
The most powerful of these strategic planning powers, category power, is simply defined as demand for a class of products/services vs. other classes.  Think smart phones, cloud computing, and storage in contrast to desktop computers, email, and wireline phone services. A little known company like 3Par selling utility storage was bought by HP for $2.35 Billion, while Newsweek was sold for one dollar.  Apple is on a prolonged tear by playing in high growth categories like smart phones, digital music distribution, and tablets.  Could Motorola have developed an iPod-like phone as a follow up to the Razr when it had the technology and know how to do so…well ahead of the iPhone?  Microsoft had an Apple-like tablet in place 10 years before Apple.  Why did Kodak miss the emergence of digital imaging?  These companies have some very smart, hard-working people and powerful ecosystems.
Indeed, the ties of the past, and doing things in the same old way may be familiar but can be quite perilous pathways.
Companies can come back from the dead.  Remember when Apple was six months away from bankruptcy.  The fate of the "10 brands that will disappear in 2012″ is not sealed.  It will take great leadership and some disciplined strategic planning from an outside-in, market-driven perspective, as well as a willingness to focus investments and resources on innovations perhaps 12-36 months away from revenue materiality by making big assymetrical bets.  I was there at Kodak in 1994 when digital imaging was an emerging area but 95% of the profits were coming from film, paper, and chemicals.  Did they bet the farm on digital, or dabble?  History can be a harsh teacher.
The dying are not dead…yet.
---
Andrew Salzman is a Principal at the Chasm Group, a Silicon Valley strategy consulting practice devoted to helping technology-based enterprises and organizations achieve market leading, differentiated, and profitable positions for their products and services.  His career spans 14 years in the ad agency world in the US, Europe, and Asia followed by 16 years as a CMO/global marketing head in tech-based companies including Kodak, Compaq, Siebel Systems, and Saba.  Andrew can be reached at asalzman@chasmgroup.com or 415-812-1925.