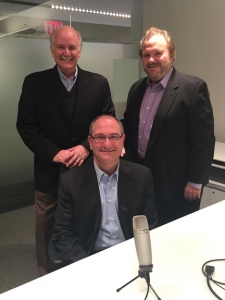 Dennis Troyanos: Welcome to this special edition of Game Changers Live. Today we are here with Nick Colucci, the CEO of Publicis Healthcare Communications Group.
DT: Nick, welcome to Game Changers Live.
Nick Colucci: It's a pleasure to be here.
DT: Now, for those of us in the audience who are not 100% familiar with PHCG – give us a quick overview of the company and what you guys do.
NC: Well Dennis, first of all I'd be surprised if your audience doesn't know who Publicis Healthcare Group is. In all seriousness, we are a collection of agencies that focus in the health and wellness space. We have offices in virtually every major market around the world and we have a group of individuals that stay dedicated to our clients and help them deliver healthcare products and services to their target audiences.
DT: And you're the CEO of the firm.
NC: Correct.
DT: Not many people get the title of CEO in their life. How did you get to this role? Tell us about your journey in that regard.
NC: Well I'm a healthcare guy. I've always been a healthcare guy. When I graduated from college I started at Roche and worked as a sales rep in Buffalo, NY. I worked there for a few years and made my way up the ranks, if you will, to Marketing and Sales Director at Roche. I was there probably about 10 or 12 years. I left to a start– up company in Houston, TX; ISIS Technologies where I became the Director of Marketing and Sales and really built their Marketing and Sales function. They made a corneal topographer that would map the cornea of the eye. It was used then for toric lens contact fitting. However RK, PRK and now lasik became popular and they were using that technology to start to drive the lasers in knowing how to do Lasik today. So we were bought by a laser company and I decided rather than going with that company to come back east. We missed the east coast; our families are from the east coast.

I took a flyer, and maybe this is the real message to your audience. I wasn't sure what I was going to do. I took a flyer and went to work for Glenn DeSimone at Medicus.  Maybe he thought and I know I thought that it was just going to be a temporary stop along the way –  but I loved it. I loved the work. He tossed me on a couple of different accounts and– I don't know, I guess the office loved me and I loved it. I was inspired by the work I was doing and I could feel a real result at the end of my day. It was different than what I'd experienced in the past. I loved consulting with clients and before I knew it I was running the NY office of Medicus. And then, it's almost like saying the rest was history – Medicus was then part of that BCom3 merger– the Leo Burnett merger – because it was part of D'Arcy Masius Benton & Bowles and the merger with Leo Burnett became BCom3. Within a few years I was running most of the North American businesses and then Publicis bought Bcom3 right after they bought Saatchi. Then Maurice (Levy) asked that we pull together the healthcare group in a very unique way from all the rest of the holding companies; that we would take all our healthcare businesses and brands and have them report up through one management structure. Keep the agencies separate but have them eventually – rather than report up through the general agency brand; so in other words Saatchi Health– or at the time Klemtner– would report up through a separate entity called Publicis Healthcare Communications Group not up through Kevin Roberts at Saatchi. Before you knew it I did that for a few years as number two and eventually became the number one after a few years and in May will be my ninth year as CEO.
DT: Congratulations. That raises the question – I am sure there is someone on our audience who is just at the point in their career were they are aspiring to be a CEO or is maybe one step away. What would be the quick and dirty best piece of advice you could give a newly minted CEO in terms of leadership?
NC: Two different questions though.  My first piece of advice is if people are lower down, setting your target on being a CEO I'm not so sure whether that is the right thing. Leadership is the right thing and whether you end up as a CEO or not there's lots of factors and we can talk about that another time. What would I say to a newly minted CEO? I'd say first of all remember what got you there because it is not easy to get to that position and you've probably got a lot of wonderful characteristics to begin with. That old statement about it's lonely at the top is true. It's a lonely job but it's lonely mainly because you have to make the ultimate decision. So be decisive but seek and surround yourself with wonderful people who can complement your strengths and shore up your weaknesses. Listen to them. Make sure you're tapped in as much as you can with the organization. Be a great communicator down. Be a great communicator by listening back up. But be decisive.
Norman Sherman: So let's build on that if we can Nick. What you're really talking about in some ways is establishment of a culture and having certain kinds of people in the organization. What's your vision for culture and bringing the right kind of talent in this organization to help make you guys special?
NC: Norm, it's hard for me many times to talk about culture because I feel like it's just the stuff that happens. But I know we make things happen – I know why you're asking me the question. The greatest thing that leaders can do or that I can do is role model the right kinds of behavior that I want everyone to have – it starts with me.  The culture I like to establish or I like to think I'm a big part of is one where we're real, we're authentic people –who we are – we are comfortable in our own skin.  We know what we're good at; what we're not good at. We work and shore up those things that we are not good at. We're perpetual learners; I like people who are incredibly inquisitive; always inquisitive. We are people who celebrate our strengths and play to that strength and stay focused on it. I believe in diversity and inclusion. I love lots of different people.  When I took over as CEO 20% of the management team or the top 50 people of the organization were women – now 51%. We are really about celebrating people who inspire, who empower and who drive results. Our culture is a whole lot about that. Are you inspiring? Are you driving results? Are your developing yourself and growing?
NS: I often believe that cultures enable people to do their best work. You can have somebody in one place that is great and goes to another place and isn't great –and vice versa –and you often say – why? It's the same person. And cultures permit that. Think about that for a second – when you're bringing great talent into this agency – what do you think about to help those people be as great as they can possibly be?
NC: Well first of all – I don't even have to think about that for a second. The first thing that comes to mind when you say that is; I've had this attitude that there's no such thing really, or there's very few bad people, there's very few bad employees really – is my belief in life. What there really are is just bad fits.  Either companies who don't do a very good job articulating what they're looking for and what they're all about. They settle for one way or another for lots of different reasons or employees that do the same they don't articulate what they're all about what they want to achieve or where they want to work and they settle badly or it ends badly. I think the best advice is that organizations need to be proud of what they stand for and what they're all about. Strengths and weaknesses; acknowledge it and articulate it to those people that they're recruiting. And say – if you want to be a part of this, this is it. If you don't – if it's not right for you and it doesn't jive with your purpose – then not. It saves a lot of people a lot of heartache and tough time. That's really my best advice for that. As it relates to people itself, I've said for a long time I love people that have intellect – not necessarily the smartest person in the room. Not necessarily the one who has the greatest therapeutic knowledge in oncology or whatever it might be. Just smart – and I think you guys know what I'm talking about –  those dancing eyes that are really bright and energetic and trying to learn and do something new. People that have initiative; will. You don't need to tell them what to do–  they tell you what needs to be done. And as my old football coach would say they'd get off the line of scrimmage and block down field and they don't need to be told.
NS: I love this area because I've always believed that there were people who knew how to get from A to E but had to stop at B, C and D in between before they got to E. I've always loved the people who would find a way of going from A to B to E because they didn't have to follow some process but they make connections and they bring their own personal experience and their intelligence and something triggers, that connection happens, and that's where the magic happens and I think that's what you're talking about.
NC: Absolutely! Look the greatest way to scale in this business is to bring people in who do things better and bigger and differently than you do. They need to share your values, but there's lots of ways to get to that. And you love those people that reinvent those ways who bring in those new ideas – that's what clients in general are hiring agencies for! We love bringing those people in. But what I wanted to say – there's one more thing I look for and that's integrity. You either tell the truth or you don't – but it's even bigger than that. Integrity to me is say what you're going to do and then do what you say you were going to do. And if you have to change it say it again and then do it differently. And be up front about that. Those are things that I think are really hard to train. Outside of that you can train a lot of things. I love passion, you know we love collaborative people, we love people with empathy but I really think that if you're that kind of person that has that intellect, initiative and will as we say and integrity and passion we can teach a lot of other things.
DT: As you know, we are an executive search firm and the kinds of people that we are seeking for clients like you are those who are highly talented and very valued. Here's been our experience – one of the most difficult employees or candidates to pull out of a company and recruit is one who is engaged, excited and feeling appreciated and really into the work. That's a person that is really difficult – even for a skilled recruiter to extract. I know that you guys are very focused on engaging your employees. Tell us how you do that.
NC: Well first of all I want to say that engagement is a direct correlation to performance. I can tell you that we actually not only use secondary data to prove that. The Harvard Business Review just did a whole bunch of stuff on this. I actually just did an analysis on this. We do an engagement survey every year and those offices that have over an 80% engagement of their employees were the agencies growing at double digits. With only one exception that had double digit growth but less than 80% but more than 70%, so they were still pretty far up there. And the contrary is true – those that don't have high engagement scores and/or we can tell qualitatively beyond the quantitative part they're also not performing as well. So there's real reason why. So what does that mean to us – what's the real key to engagement – Leadership.  Leadership in those organizations. When people love their boss – starting at the top of those organizations all the way down that's the first thing that they're engaged about and my guess is that all of you would say that one of the easiest ways to get somebody out of an organization is – I hate my boss. So that's number one or one of the top things. What are the other things? People need to feel like what they're doing is purposeful. They're connected to it. It matters. And they need to be told that they matter as a part of all of that. So that's the second thing and I think that's particularly true of this younger generation of millennials who are very much a purposeful-driven generation. They want to feel like they're doing something bigger. And I think finding a way to connect them to the work in that way is really important. Thirdly: Career development.  They have to see that they're growing and they're contributing. We push them a little bit on this and say we've got a hand in this but you've got to have a hand in this too – you've gotta want to seek career growth yourself and then we have to be to help push them along and then make sure they know that their career is progressing. Not easy to do in our business you guys know that because clients love you – they don't want you off their business and sometimes growth and development requires that happens. But we have to work hard to make sure that clients understand that and that employees do at the same time about how we balance that. So that's the third thing. Lastly they gotta be communicated to. They have to feel like they know what's going on. This is the age of transparency whether we like it or not. You cannot hide things from people anymore. Maybe we're too transparent for those of us that are balding and graying of which I'm sitting around the table with here. (laughter) We have to live in this world and in this world something happens on the other side of the world and in about 3 seconds we hear about it on the other side of the world – good or bad. In a microcosm in a company when things are happening you have to be transparent about what those things are and what the impact is and then real and authentic about what it can mean. I think when you do those things you really create an engaging culture and employees are engaged.
DT: Now to that point we walk the halls here often enough to talk to some of the leaders who have told us that Nick is a good mentor. And our advice to senior management when we're recruiting them is –  never work for somebody that can't make you better but conversely we always give the same advice to a CEO who we are recruiting for – Don't hire a leader who can't make you a better CEO. Do you agree with that philosophy or is that something that The Troyanos Group came up with that's not relevant?
NC: I totally agree with it. I have to tell you though, we struggle with it. And I'm not sure everybody we hire– I'm not sure I'm a great mentor for everybody and I'm not sure everybody we hire can be a great mentor for us. Lots of time we cloud our minds with all these other different things that we're trying to hire for – different skill sets. It's probably a great thing to think about though that anybody you bring on board and hire as part of your team you have to feel really good about what that person is all about and what they can add to you. Once again it's old stories guys – I remember going through a training program at Roche when I became a district sales manager. And it was really the first time I had to hire people and get responsible for managing people and I was 27 years old at the time. So I was a sponge and I remember going through this program called Targeted Selection which I'm sure you guys know about and maybe even use to a certain degree yourselves – I still use the principles– and after I was done with it I left the meeting and there was a district manager who had been around for years and years from South Carolina. And we got in the car and drove back to the hotel and he said in his southern drawl "Well, all that stuff is really good I've learned a lot but I still ask myself one simple question after I'm done interviewing –  would I be comfortable sitting in a car next to this boy for 8 hours a day for a week?"  That's one of the last questions I ask myself.  I think it kind of gets to not only whether you like them but are they someone you can connect with?  I think sometimes we forget those things, because if you're not willing to spend time with somebody or connect with them you're not going to learn from them and they're not going to learn from you. Sometimes there just still needs to be a bit of that raw connection stuff.
DT: Gee Nick I wish you would have told me and Norm this 12 years ago! [laughter]
NC: I don't think you guys need to learn how to interview people and pick the right people for me!
DT: The skill set area for healthcare marketing. That's an area that has really captivated our focus and we'd like your input on this. What is the skill set of the healthcare marketer of tomorrow?
NC: I probably should be asking you guys that question rather than answering it for you. I have 2 minds of this. I think what's old is new again sometimes.  I think there are just certain basics of what makes a good healthcare marketer that I'm not so sure is changing. Great marketers in general are people who are just tuned in to what's going on in the marketplace. They're aware, they have voracious appetites – they read, they understand. They're the people that read the Tuesday section of the NY Times just to read about the science and what's out there. So I think this business always requires an intimate knowledge of the product and the categories. I think almost every marketer should be like that but certainly healthcare marketers need and have a responsibility to understand with great depth the product and services of which they're a part of or representing. They have to be deeply steeped. That's not changing. What's changing? Look, you don't work on cycles anymore. In my day we had POA's that went in 4 or 3 month or 6 month cycles and you rotated through those things and did yearly plans. In the new world plans almost seem to me to be to be weekly or daily – they're happening quickly. Data is so readily available you have to be able to know what data is information because this term around "big data"…which I get it… but I'm not so sure big data is what's so important –  making it little data and relevant data and pertinent data is what's important. And those marketers that can do that and then act quickly and keep acting on that information…you just have to be quicker and more nimble these days. And you have to be a better filter these days because data is coming at you from all different places. You have to be decisive, you've gotta be quick. I don't know what else to say – those are some of my thoughts on what's old and what's new.
NS: So the agency business – it's  the old saw  is – our inventory goes down the elevator every night, you don't manufacture anything, you've got nothing but people –  and as a result you are  I'm sure not only always looking for people who are a great fit for the organization – critically important – but really star talent. People who can really make a difference. But everybody else is looking for those same people, right? So if you have that person in front of you that you really want to bring into your organization what is it that you say to them? Why should they want to be part of PHCG?
NC: I come at it from two ways. One of them is what you talked about the other is more general which I think you're trying to get out of this talk. The two ways are – I emphasize to them that people matter. Just like you said – that people go up and down the elevator – who you're going to work for matters. The people you are going to work with matter a lot. Maybe you're going to work on the greatest brand that's out there. But if you're not feeling really good about who your boss is going to be or who your team is going to be as you're going through that interview process I'd tell you forget the greatest brand in the world. Find the greatest boss or mentor you think is going to be there and the greatest team or group of people that you're going to work with. I believe that I have the greatest leaders in this industry and I believe I have the greatest people in this industry inside this company and I challenge people to come in and kick those tires and make sure I'm right about that and make their decision on that. The second thing is the vision. Does the company really know where it's going? Does it know who it is and does it know where it's going. And are they performing? Ask those questions. Vision is one thing. Performance towards that vision is another thing as an affirmation. Join organizations that can clearly articulate for you why they exist, and what they do, and where they're going, and how they're doing. And I think if you use those two guiding principles you probably will pick the right place to work. And I think if you use those guiding principles and you want to work in this industry – we are the right place to work.
NS: So that's amazingly inspiring – sign me up!
NC: You got it –  can we afford you?
NS: No you can't afford me [laughter]. I want to look to the future for a moment. Healthcare in particular pharma is really challenged, right – expiring patents, slow growth…you've got to continue to grow this business. Where do you see the opportunities in this kind of environment for growth in your business?
NC: Well I can talk to you about all kinds of things like pharma, emerging markets and there's growth there. I can also tell you that I believe much of the growth in mobile technology, which I think will impact our industry to a great extent, there's great opportunity there. Certainly the ability to tell deep and meaningful stories that are very relevant in the healthcare profession through the new platforms and digital channels that exist all represent huge opportunities for us. You can see that our organization at the group level has invested in those. We have nearly 60% of our business in the new environment as we say. I hate to even use the term digital anymore because it's everything. But our business is there now. And so, I think business will continue to grow there, those are going to be great opportunities for us. I think some of the new delivery that is going to result from the Affordable Care Act, regardless of whether congress in the U.S. turns over the way that it has, I believe that even if that law has changed or even if parts of the law is changed the genie's out of the bottle in terms of how we're going to reorient the way we approach health and well– being. And I think there's great opportunity there. There's great market opportunity in the fact that baby boomers are now all over the age of 50, the oldest being 68. We all know that most of the healthcare that's being consumed right now is by people over the age of 50. So the market is growing and you just have to be out there hustling for it which gets to my last point. I think a lot of growth is just going to come from share-stealing. You gotta be better. You gotta just walk in to those pitches and walk in to those opportunities and be great.  Not easy these days because there are a lot of good agencies out there still for sure. But we've got to be really excellent. We've got to really button it up and I'm happy to say we win our share because I think we are really buttoned up. I'm trying to win more than our share so I'm never satisfied but I'm pleased with the fact that I think we are stealing some of that share out there right now.
DT: That's great. As the leader of the largest, most successful healthcare agency holding company on the planet what would you like your legacy to be once you decide to move on to the next thing in life Nick?
NC: Well first of all I love the way you are characterizing me. I've often said I'm not so sure being the largest is what my goal always was. Being commonly referred to as the best…I'll take successful – most successful at best. We are constantly in search of being regarded as the best. The destination point for clients and the destination point for candidates that you are recruiting for us so we don't want your job to be that hard to get 'em to come with us. I know you're asking me that question because you're looking at me going there must be more behind this guy then in front of him right. No one asks your legacy when you're 27 years old they ask me when I'm fifty something years old! I guess I've only started thinking about that these last few years. I love this business; I've always loved it. I'm passionate about it – I'm genuinely passionate about it. It's infectious I guess. It's real and people feel that. I hope that people will see that I was a very authentic leader who did a lot to attract people into this business to make them feel proud about what we were doing and what we are doing. That this is a most honorable profession. Communicating about health and well– being and helping people understand and make some of the most difficult and meaningful decisions of their lives in a most informed way is what I feel I've been a part of. I hope people will look back and say he did that well. And probably on a side note it, being this time of the year that we're talking, I'm always so touched by the real concept of what's behind "It's a Wonderful Life." Which is no one really ever knows how one life –  your life impacts so many others' lives. It would do my heart good for people to know that they think they were better or their life was better or touched in some way by having an interaction with me in our work or in their endeavors with me as a client or whatever. If I can leave that legacy and people say those things I will have had a successful run.
DT: Nick, this was an absolutely great session for us. I can tell you we walked away with a couple of very important concepts.  One: People matter, the work matters and that transparency matters, I think is absolutely going to stay with us. And the importance you place on vision and performance toward executing that vision is again a concept that I think is really important to be thinking about and for every leader to be thinking about. I want to thank you on behalf of Norman Sherman and myself for being with us today on this special edition of Game Changers Live. Nick Colucci, thank you very much.
NC: Thank you it was my pleasure and happy holidays guys.
NS & DT: And to you as well. You've been listening to a special edition of Game Changers Live. Today we interviewed Nick Colucci, the CEO of Publicis Health Care Group. Game Chargers Live is a production of The Troyanos Group Ltd.