How to Become a Transformative CEO: Insights from McGraw-Hill's new hit business book
By Robert Reiss, Co-author
I feel honored to write for Game Changers, as the concept is so important to me it became the subtitle of my new book, "The Transformative CEO" – Impact Lessons from Industry Game Changers. Below I outline some of the key concepts to becoming a true game changer, each followed with two examples. And these concepts can be utilized not just by CEOs, but by anyone who wants to dramatically grow and transform their business.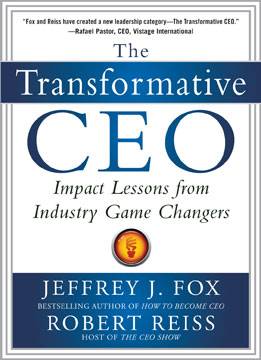 Let's start with background. The insights are based on my having in-depth direct conversations with 241 top CEOs. Then, after reading over 500 business books, one night I read one by Jeffrey Fox, "How to become CEO," one of his 12 best-sellers. I was hooked. To me, I found in Jeffrey Fox the best business story teller I had ever read. So I found his number on the web and called him up right then …we met for breakfast a few days later. And the past two years have been magic, Jeffrey and I have worked together to help create this new business category – The Transformative CEO, which we believe can be a game changer to business, the economy and society.
So let's discuss where the concept of transformation fits into business. I believe it is the 4th wave. The 1st wave was in the 1920s where Alfred Sloan from General Motors established the concept of organizational structure; the 2nd wave was in the 1950s when Peter Drucker codified the role of management; the 3rd wave was in the 1980s when Japanese business brought forth the concept of team; and now the 4th wave is a new type of company – a transformative company … one that combines profit with purpose. And more often than not, those companies become transformative by a Transformative CEO. I define a Transformative CEO as "someone who creates new value by reinvigorating a company, reinventing an industry or rebooting society.'
Here are 4 rules you can use to help your business become transformative. And you will note, Transformative CEOs may use more than one rule.
Rule # 1: Create new value
This means something that didn't exist before. In 1996, egg consumption had declined from 365 a year per person to 234 a year. But the question is, how can you transform the ultimate commodity – the egg? CEO Charlie Lanktree had the insight, that the key was changing what's inside, and the way to do that was to change what you feed the chickens. The result was an egg with less fat, less cholesterol, that tasted better. Now the egg may cost more, but to the consumer having 2 healthy eggs for 60 cents vs. 40 cents is still less than a candy bar for a nutritious breakfast. The result — for the past 15 years, Eggland's Best has had annualized growth of over 17% every year.
Today John Paul DeJoria has net worth of $4 billion, but a few decades ago he was actually homeless and caring for his 2 ½ year old son, living out of his car. But he had a friend and they had an idea. They would create a new type of shampoo and not sell that shampoo directly to the public – which they didn't have money to do anyway — they create new value by selling to a different customer and would sell directly to the beauty salon. They created products like shampoo with conditioner in one and started knocking on doors. And knocking on more doors. According to JP, "If you knock on 100 doors and they all say no, then at door 101, be just as enthusiastic as you were at door number one."  Net/net because of this new product reaching new customers, and being sold where failure was not an option, John Paul Mitchell Systems has become an industry game changer. And being the Transformative CEO he is, JP then did act 2 and started Patron Spirits, where again he created new value by creating the first ultra premium tequila. And today, not only has he become very successful, he has built two companies focused deeply on giving back to society.
Rule # 2: Have a higher purpose:
This means the goal is something much larger than just the company. When ING Direct started, according to CEO Arkadi Kuhlmann, "The core of my idea was to bring Americans back to savings." This calling galvanized employees and built a huge following through social media. The operational model that followed was since 50% of bank costs can come from the branch system, ING Direct, unlike the 9,600 other banks in America, would have no branches, and instead return that money to depositors in form of higher savings rates. A decade later, ING Direct had $90 billion in assets and become the largest savings bank in America.
Waste Management realized they were carting 110 million tons of waste a year. So the over 40,000 associates drove the higher purpose to ultimately stop creating new landfills and in fact have the higher purpose goal of no landfills! The result was the concept, "Extracting Value from Waste," which led the company to use their waste to actually create energy. Working from a higher purpose, galvanizes the workforce, does the right thing … and with social media can create a groundswell of positive followers and new customers.
Rule # 3: Put culture first
Prior to this project, I believed the myth that the first step to turning a company around starts with the customer. Wrong. I've since learned, it actually starts with the culture … and the talent determines how to engage the customer. When Zappos started, they had no money for advertising, so instead they focused on the culture and every person there focused on the customer. Tony Hsieh says, "For any company, the kind of culture they have doesn't really matter. What matters, what's important, is that it is a strong culture, and that it is consistent throughout the entire company." Today Zappos is not only profitable, but one of the most beloved companies in the world.
In 2001 Campbell Soup Company had lost half its market value and was dramatically cutting costs to the point where they were removing chicken from their signature chicken noodle soup! Day one for new CEO Doug Conant was to tell the team that the culture was the answer. He listened, and focused as dashboard item # 1 employee engagement, which is measured by ratio of engaged to disengaged. The current ratio was 2:1, and world class was 12:1. By focusing on the culture and allowing them to solve the business issues, engagement levels rose to 17:1, profitability was restored and Campbell Soup Company again was top of lists like Most Admired Companies.
Rule # 4: Obstacles are opportunities
Common sense is that obstacles are bad. But obstacles actually drive the process of deep thinking for solutions, and because of the unique situations, will take a transformative CEO farther than they ever would have gone without the obstacles. Marvel comics in 1998 had just emerged from bankruptcy with a stock price of 96 cents a share. According to then CEO Peter Cuneo, "We were recovering from bankruptcy and at one point our assets were $3 million in cash and 7,000 fantasy characters that had been mostly dormant for some time." Marvel set the strategy of aligning with major motion picture leaders like Sony and Universal and creating joint movies to bring back those characters. After several blockbusters like Spiderman, Marvel was strong enough to raise over $500 million and build their own motion picture studios. Fast forward a decade and Disney bought Marvel for $54 a share. I believe Marvel would not have grown so dramatically had their backs not been against the wall allowing for only one option.
AT&T Mobility CEO Ralph de la Vega at 10 years old learned an incredible lesson. He was separated from his parents in Cuba for 4 years because of the Castro regime. He lived with a family he had not met, in a new country where he didn't speak with language or even like the food. But that unimaginable challenge taught him that obstacles make one strong and open new opportunities. He brought that belief with him when launching the ROKR as the first music phone, which he had shared with Steve Jobs. The ROKR was a huge market failure … but as obstacles are opportunities, when Steve Jobs wanted to bring the iPhone to market, he connected with de la Vega. The rest is history…
I hope you've enjoyed some of these business stories and will become inspired to be transformative. If you want to read more about these CEOs you can Google their name, Reiss and Forbes, as I have written articles in my Forbes column about most. Or if you really want to understand exactly what it takes to become a Transformative CEO, read the book.
On a final thought about the book, Jeffrey and I have designed The Transformative CEO so it's like you're sitting and having a direct conversation with each CEO as they share their personal ideas on exactly what it takes to become a Transformative CEO and an industry game changer.
Be transformative.
---
During the past 4 seasons Robert Reiss has interviewed in-depth over 200 CEOs on The CEO Show with Robert Reiss. The program is a weekly one-hour radio national broadcast, and has recently added its edited version The CEO Show Minute which airs over 3,000 times a week as a daily show from 85 markets. The program has over 600,000 weekly listeners.
Reiss recently launched The CEO TV Show, pioneering a pan-internet/mobile format using an affiliate distribution model, where Reiss interviews the most innovative CEOs.
The CEO Show is expanded in Reiss' monthly column with Forbes.com. The CEO Show also is publisher of The CEO Forum, a quarterly magazine that features 10 CEO interviews per quarter and is received exclusively by the top 10,000 CEOs in America. His work with CEOs was featured in the Harvard Business Review, where Reiss was cited as an "expert in executive communications."
A frequent presenter, over the past two decades Reiss has given over 300 speeches. He is the Chairman and emcee of The Conference Board's Senior Marketing Executive Conference, which was awarded the #4 top global C-Suite venue (and # 1 in marketing) in 2009. Robert can be reached at Robert@ceoshow.com or (203) 894-9400
The Transformative CEO can be found at Amazon.com.