| | |
| --- | --- |
| A Troyanos Group Ltd. Publication | Volume IV, July 2012 |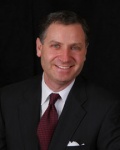 The Troyanos Group is honored to host Robert Reiss, whose pioneering national radio broadcast The CEO Show has provided unmatched insight into innovative, customer focused CEO's. This platform has spawned a wide array of content, including a column on Forbes.com, The CEO Forum quarterly magazine, and the recently launched The CEO TV Show. Reiss recently co-authored a book, with Jeffrey Fox, entitled The Transformative CEO–Impact Lessons from Industry Game Changers. In it, the authors discuss some of the key concepts to becoming a true game changer, which will undoubtedly  be of great value not just for CEOs, but for anyone who wants to dramatically grow and transform their business.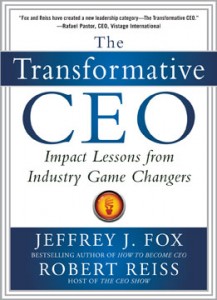 Excerpt: "A transformative company [is] one that combines profit with purpose. And more often than not, those companies become transformative by a Transformative CEO. I define a Transformative CEO as 'someone who creates new value by reinvigorating a company, reinventing an industry or rebooting society.'" Read the complete article at The Game Changers
The Troyanos Group, Ltd. is an Executive Search and Consulting firm specializing in Marketing and Marketing Communications.
https://troyanosgroup.com/