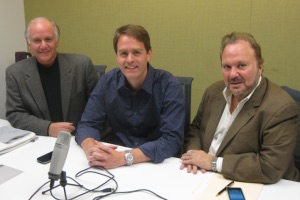 Dennis Troyanos: Welcome to Game Changers Live. I'm your host, Dennis Troyanos, and I'm joined by my co-host, Norman Sherman. Game Changers Live is sponsored by the Troyanos Group: innovation in executive search and consulting. Today we're here with Brent Shedd, the general manager of G2 in San Francisco. Brent, you're the GM and executive director of G2 USA in San Francisco, is that correct?
Brent Shedd: That's correct.
DT: Tell us about G2 and give us a sense of what the G2 brand stands for.
BS: G2 is a one-to-one focused company. We do everything below the line. That has grown over the years to encompass everything from all the different touchpoints that take place: from the home to the shelf and everything in between. That covers all the data that is involved between there; I don't want anybody thinking that that's just in the mailbox or just packaging. When you think about what a consumer experiences from the time they walk through the door of their home until they walk through the door of the retailer and up to the shelf, there's a world of visuals and a world of interactions that take place in between those two spaces. That's what G2 focuses on.
Norman Sherman: That's a lot of things. What don't you do at G2?
BS: We do not consider ourselves to be a mass agency. From a positioning standpoint, we don't tend to be the carnival barker that is out out there shouting, hoping that we're going to hit someone as they come by. We position ourselves as a one-to-one communicator.
DT: When you talk about the customer experience – how the customer experiences the brand, how the customer is communicated to and communicates back – tell us about how G2 has focused on that customer-centric marketing and what that customer experience is like.
BS: We've developed a proprietary methodology called the Purchase Decision Journey that has a lot of tools and workshops around it. What it does is allow us to step back and map out exactly what occurs, starting at the level of influence, and the thought processes that go into what we do as consumers when we are considering pursuing the purchase of an individual product. It allows us to get that out of our heads and onto paper, where you can step back, look at that, and realize where the areas that can be influenced are. That may not have been immediately evident because the advertising space has been hard-coded into very traditional vehicles whether that's television, or radio, or outdoor, et cetera. There's an entire world of other possibilities that exist if you're able to step back and look at what actually happens in our lives from the time we are influenced towards a specific product or a need arises that makes us need to find a solution for that need. When you're able to look at what occurs from that point all the way to the point where we've fulfilled that need with a product or service you find an entire universe of touchpoints: some very traditional, some nontraditional.
DT: Is there a campaign that jumps out for you when it comes to how your team at G2 has taken the customer journey from step A to step C and created a unique proposition for a client?
BS: I can draw upon something that we've done very recently for Timex. Timex always thought of itself as a watch, and rightfully so; Timex makes a lot of watches and that's always been their history. When we took a step back and we took a look at how people think about Timex and at what point in that Purchase Decision Journey someone came upon the decision to purchase a Timex, what we discovered was that Timex is actually more of a fashion accessory than it is a utility. What that led us to do was to move where Timex presented itself at retail: out of the traditional watch section at a department store and into the clothing section where people are actually making fashion decisions. That has been a significant mind-shift for that company which came out of the Purchase Decision Process.
NS: That's quite remarkable. What was it about Timex that got it to be perceived as a fashion accessory? Was it the price or something in the brand personality? Is Timex different from other watches in its price class in that regard?
BS: Yes. Obviously, you have watch manufacturers that have established themselves in the category based on different things. You have a Rolex or an Omega, which are very high precision instruments that pride themselves on how you find them and what they deliver for you. You'll see in some of the advertising for Rolex that they have celebrities endorsing them. They're not trying to make themselves into a fashion accessory; they are trying to say that quality people use quality products and they're the quality product that should be used. Timex, on the other hand, has taken an approach where they have watches with interchangeable bands and ways in which you can customize the timepiece itself. The only reason that you're customizing that timepiece is to fit with what you're doing with the rest of your outfit. Once they started coming out with interchangeable pieces to the timepieces themselves, it shifted the focus from being just a timepiece to actually being a fashion accessory and it shifted how people shopped for those things.
NS: This is a great example of how consumer insight can drive not only communications programs but whole marketing plans. Do you as a company have your own approach to unearthing those consumer insights?
BS: One of the foundational principles of G2 has always been that the insights that we come up with for our consumers are found in the data. We have something that I call forensic analysis which is very different from looking at a database – and the data that is inside of that database – and turning around and telling you what the database says. That's analysis; forensic analysis is looking at that data like a detective would and finding cause-and-effect relationships that are not immediately evident to someone who's just looking at the data on face value. That's where the true insights come forward: the insights that you would not normally take away from your business but a forensic analyst can. Those are the people at G2 that I am the proudest to be associated with because – they're geniuses in and of themselves – they are able to come to a client and show them an insight that may at first blush make no sense to them and then back that up with their own data. We all know that people say something very different from what they do. One of the focuses at G2 is that we want to get past what they say and get straight to what they do. A lot of people will do things that they don't understand why they do, but they still do them. If we can find a cause and effect relationship between what they're doing and why they do it, even if it doesn't make sense to the individual at the time, we'll pull that trigger every time and get them to do a lot more of that.
NS: That's an amazing skill set. It seems like it's a real combination of deep left brain – your ability to play in the data and extract things – and incredible right brain at the same time, because it's not necessarily apparent from the data. People have to make jumps and reach conclusions that maybe aren't completely evident.Where do you find people like that?
BS: That's a good question; you wind up talking to a lot of people. People who have a certain skill set tend to know other people that have that skill set. Once you fall into the appropriate crowd, you can follow the links from one to the other until you find the right person that fits with your need, your culture, and your agency. You have to kiss a lot of frogs to get your prince, but the princes are invaluable. I wouldn't want to convey the message that our forensic analysts are the highest on the totem pole at the agency; you have just as much trouble finding truly strong creative people. The bar at G2 is not that you're able to produce creative work; there are a lot of people that can produce creative work. What we need are creatives who can run with those forensic analysts. Creators that can take the insight that's coming from those analysts, sit down with strategic planners, and take those insights and turn them into really rich, active programs for the clients. That's not the same thing as a creative that comes up with a really cool idea and says "Let's go do some research to justify it." It's the opposite of that approach.
DT: As you think about the G2 ecosystem, one of the terms that comes to mind – as we've talked about in the past – is barrier-free. I'd like to understand what you mean by barrier-free and how that translates to a great place to work and a great place for clients to take advantage of in terms of opportunities for creative and strategic thinking.
BS: What I mean by barrier-free is that when you come into G2SF,  I'm a huge proponent of three principles which I term KPI. A lot of people know that as Key Performance Indicators. The K stands for Kindness – in San Francisco I can get away with that – which stands for not talking smack about your fellow employees or your company. We all make a choice to work here and you want to work someplace where you're proud, because you spend more time at work than you do at home. If you're not thrilled to be there, I want to help you find some place that you'll be thrilled to work for. It also means that if a meeting starts at 9, you're there at 9. If you're there at 9:15, you've inconvenienced everyone else in the room for fifteen minutes, and that's not very kind.
The P stands for passion.  We're all very passionate about what we do, and everyone deserves to be passionate about what they do for a living. You'll be passionate about something that you are intrinsically good at or something that you strongly want to be good at. G2 is a great environment for people that want to be passionate about what they work on or are passionate about what they do, whether that's as a creative or a project manager. If you're passionate about that line of work, you will find a ready home at G2 because you're surrounded by other people who aren't showing up and punching a clock. They show up because they're excited about what they do and they're excited to be there with a team of other people that are equally jazzed about what they do. That extends to the clients too; I want people working on client businesses that make sense to them, that they believe in, so that they feel that they're in there with the client. One of the greatest compliments that I've ever had in a client meeting was from a CEO. When we finished a presentation, he laughed a little bit and he said: "I swear, I think you guys care more about our business than we do." That's what I want every CEO walking away from a creative pitch or strategic workshop with G2 believing in their heart, because it's true. We pour our heart and soul into our clients businesses, and it's very real for us. Their success is our success.
The I stands for innovation and imagination. We're an agency and an agency is based on ideas and creativity. I've told my staff a hundred times that I would much rather step outside my office and have to duck a Nerf dart that shot over my head than drop a pen and hear it hit the floor. I want activity, I want noise, I want energy in the agency; that means that people are alive. If a client comes to your agency and they're having more fun at their location than they are at your agency, they're with the wrong agency. That's what the I stands for. We have a weekly ideation deliverable where everyone is required to come up with a new idea for a client or for the agency every week. We discuss those ideas, and the ones that make sense to present to the clients, we present to the clients. The ones that make sense as new products for the agency itself, we pursue, and the others we chuckle about.
NS: You're creating a culture but it's also a way of differentiating you from other alternative agencies out there. This is a really hard time to be in the agency business. Margins are being squeezed, client loyalties are at an all time low, and the rate of change in communications vehicles is accellerating. What is it in this kind of environment that enables you to be successful?
BS: I think the environment itself plays to the advantage of an agency like G2. We've got two key aspects that help position our clients very well for that kind of environment. You've got a cadre of very smart strategic thinkers who are used to thinking in nontraditional ways. We keep going back to the Purchase Decision Journey, so we're used to thinking between the cracks. We're always looking for a new and different way of reaching a consumer. You've got that aspect, and then you've got the forensic analysis that I talked about, which are these sometimes-quirky insights that come from cause-and-effect relationships within your data. As the environment keeps changing so rapidly, you can see how those forensic analysts play a key role: they start to identify cause-and-effect relationships that weren't there before. All of a sudden they're seeing that the role of an influencer in a person's social network is more important than something that they saw on television or that they heard on the radio. Being able to draw those lines can make the difference.
DT: As you know we're an executive search firm, and this program will probably be heard by literally hundreds – if not thousands – of people that have great talent. Some of those people have phenomenal talent in the analytics area. Invariably, these folks might be attracted to what you just said. If you were sitting here in front of one of the most talented forensic analysts in America and they were considering an opportunity at G2, what are the things you'd say that would really get them jucied and excited about working here on clients like Adobe and Glaxo and Coca-Cola?
BS: What I would tell them is that they have a lot of choices in where they can go with that skill set. You can take that skill set to a management consulting firm, and they'll bring you in, do your forensic analysis, and they'll provide your recommendation to clients. The difference with coming to G2 is that not only do you get to provide that insight to a client, but you get to see that insight brought to life in a consumer program that actually moves the business. Not to say that with a management consulting firm you wouldn't get to see it brought to life, but at G2 you're part of the team that ideates how that insight now plays into an actual revenue-generating program. You get to be a part of the team that puts the creative overlay and the strategic planning overlay onto that. You're part of a group of individuals oriented to a singular goal: bringing this program to life and launching it into the world.
DT: Brent, we'd like to talk to you a little about one of the areas that is near and dear to your heart, which is the customer relationship marketing arena. Could you give our audience a good sense of how you have created relationships and consumer involvement around what would traditionally be low-involvement products?
BS: Low-involvement products are always an interesting space to work in. By definition, low-involvement products almost become commodities. We're talking about products that are purchased infrequently or that are more like a utility; you tend not to be highly involved with your electricity and a lot of products in your home that you buy and you forget about. That does not mean that the only avenue of success for a manufacturer or a provider of a low-involvement category product or service is a race to the bottom on price. When you participate in that kind of a marketing approach, you're undermining your own value in the marketplace. A lot of CEOs of low-involvement category products don't invest in marketing. From their perspective it really is a race to the bottom. As long as they can be the cheapest price, they'll get the greatest market share and they'll win in the end. The trouble is that there comes a point in time where the ROI doesn't make sense anymore, and at a certain price point the quality starts breaking down for the consumer. That's where the train comes off the tracks. Instead of taking that approach, we have worked very successfully with low-involvement category products and services to differentiate them in the marketplace and pull them out of that commodity mindset. It has everything to do with reorienting the way that they view their relationship with their consumers. They do have a relationship with their consumer in the same way that each of us has a relationship, in varying degrees, with every product and service that we interact with. We're creatures of habit by nature; we prefer inertia in those areas of low involvement for us. We don't want to make changes because it complicates our already-complicated life. If a low-involvement product or service can just confirm for us every now and then that we've made the right choice by choosing them or using them, then we will gladly stay with them and not switch away to somebody else. In some instances we've actually taken some companies' products and services and turned them into currencies for them: currencies that change the way that they interact with their consumers and provide value to those consumers, perceived and real. They wind up providing a great deal of value to the companies themselves. Everybody wins in that equation and that's the direction we always go with our clients.
NS: Could you come up with an example that might bring to life what you just went through?
BS: Not one that's actually in the market right now. I'm on the agenda to speak to some of these things at some upcoming trade shows in 2012, but I don't have clearance to discuss that right now.
NS: We'll be back with you next year and ask that same question.
DT: You spend a lot of time talking to CMOs and brand managers and people who run marketing businesses. As you think back six, eight, twelve months ago, I'd like to get a sense of how focused chief marketing officers were on social media then, and, in your opinion, are they as focused on social media today?
BS: Social media is one of those areas in the marketing mix that, in my opinion, has not been figured out yet. There aren't many players in the category; Facebook basically dominates that space. Any time you have a single player dominating a space, you know by definition that it has not been fully figured out. Companies struggle every day, and were struggling six months ago, in measuring the value of a social media campaign to the brand. There are not many social media campaigns and opportunities for an individual to interact with a brand in an authentic way in the social media space. That has not been figured out in its entirety yet. It's going to be, and I believe that as the social media space proliferates beyond what it is today, the way that brands interact with consumers in the social media space will proliferate as well. We'll have many more opportunities a year from now than we do today.