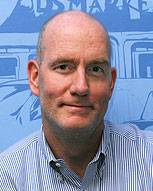 Dennis Troyanos: Welcome to this special edition of Game Changers Live. This is your host Dennis Troyanos.  Today I'm talking with Joe McCambley, the co-founder of The Wonderfactory; a company that is virtually reinventing the advertising model and helping clients find new sources of revenue. Joe was a veteran of the digital customer communications wars. He's held senior creative positions at AOL, Digitas and modem media. Joe caught my attention when he was facilitating a marketing round table discussion at The New School in New York City not too long ago.  Joe, welcome to Game Changers Live.
Joe McCambley: Hey Dennis, thanks for having me.
DT: Sure Joe, it's great to have you here. Joe, we met each other a couple of weeks ago and we spent some time together as you recall. As I was looking at your work and as I was chatting with you about all of the changes in the world of marketing it became very clear that you have a distinct point of view about the future of marketing and that's why I invited you here today – to talk to the audience about Joe's view of the world and how that has impacted your client's success. To put things in context – what kinds of things are you doing for your clients right now and give us a sense of the kinds of challenges that your clients are facing.
JM: To do that I'll have to give you a bit of my background. I've been in advertising and marketing since the early 80's doing radio, and TV and print and direct response and events and promotions and in the early part of the century around 2004, 2003 I was lucky enough to be running creative at America Online. We did some very early experimentation with the AOL service over mobile phones and some very early experimentation with advertising over the mobile phone, and we recognized right away that advertising and mobile didn't mix.
So when I left AOL and started The Wonderfactory, my partner and I had this sense that eventually the year of mobile would arrive. We've been predicting the year of mobile since 1995 and it actually started to happen when Apple introduced the iPhone in 2007.
So we opened The Wonderfactory thinking eventually brands or people are going to move to mobile and that advertising wouldn't work and that brands were going to be looking for an answer, they couldn't advertise to people on mobile because people on mobile are focused on getting things done. We all laugh at teenagers in the elevators but they're checking status on Facebook, they're looking at email, they're looking for directions on Google, they're all focused on getting things done and people who are trying to get things done don't want to be interrupted by advertising.
So if you're an advertiser today and you want to get consumer attention you have to be in that content space. We knew this because of the earlier experimentation at AOL we saw that coming. So when we opened The Wonderfactory we wanted to focus our attention on publishers and media companies like The Washington Post , The Weather Channel, MSNBC and NBC so that when advertisers started to seek out ways to create content we could be perceived as experts in the content space. Now you're seeing this – there's this long term secular trend that's been happening where consumers are moving into mobile. Most of my clients that are in publishing are seeing that well over half of their interactions with customers are over a mobile screen. They're trading dollars that they used to get in print from advertisers for literally pennies in mobile. So, the economics in our business are fundamentally changing by this consumer movement to mobile. And then on the advertising side as an advertiser you're seeing that the people that you're trying to reach are spending half or more of their time in mobile and you can't reach them because you're using traditional advertising and it doesn't work for people who are trying to get things done. It's an amazing and interesting time to be in both publishing and advertising because that movement to mobile is changing the world entirely.
DT: Well you raise so many interesting points I don't even know where to jump in. Let me start with one area that is top of mind for me and our firm. And that is – when we go to a client to talk about the challenges of their branding and marketing they gear the conversation toward technology and Omni channel delivery of media and they talk about big data. And when we talk about the creative product it feels like they go a little blank. What are your thoughts in terms of the importance of creative, especially since your roots are in creative?
JM: I've been a Creative Director for years and of course my point of view is going to be very biased.  But I think they're wrong. It's not about the technology. Granted, if there were no television networks, if there were no TV sets then there would be no TV spots, I'll grant you that, so the technology is important to enabling that kind of creativity.  But once the technology is in place it fades into the background and it's all about story telling. I mean look at the Superbowl today – it's the one time of the year where everybody in America actually cares about advertising because it's the one time of the year where every advertiser actually focuses on the story telling and content and being entertaining in an entertaining medium.  Nobody thinks about the technology, nobody cares if they've got a curved Samsung screen. They care about – Am I being entertained?  Am I being informed? Am I happy right now? Technology is an enabler. It's not the only important thing.
DT: The ability to tell a story in a way that is funny, entertaining, educational, engaging all that "stuff" – that's been around for a long time. There have been great storytellers forever. You've taken that human thing called storytelling and you've put it in a box. What's the art involved in that? What makes Joe's version of that deliverable – different from everyone else's?
JM: My version harkens back to this movement towards mobile. So the only way that you're going get a person's attention on mobile is to be in the content space because that's where they're focused. And you have to be mindful of the fact that people in mobile are trying to get things done.  So the only way that you're going to be successful as an advertiser or as a storyteller in mobile is to help people. You can't ask anymore what can I sell you. You have to be asking how can I help you. That's really the key to it. You mention this and I agree with you that content has been around a long time. The Old Testament is content that sold some of the largest, greatest most popular religions in the world. The 10 Commandments is the original listicle. The reason why we still talk about the 10 commandments 4,000 years later is because it was helpful, useful advice that guided people to more successful living- and that's what advertisers need to do.
DT: It's always interesting to talk to someone who lives in the world that you live in because I see such a transformation of points of view. If we were talking 5 years ago, I may have been listening to someone who was touting the miracle of banner advertising. Tell me, has banner advertising met its promise? What's your view?
JM: I was lucky enough to be involved with some of the early teams that did some of the first banner advertising in October of 1994. At the time we were so idealistic. We were finally going to, for the first time in history, do the kind of advertising that helped people. And you have to remember in 1994 there was this thing that everybody talked about called "metiquette ". There were things that you could and could not do. So you could not market in email. If you used email for marketing purposes hackers would attack you, you'd get denial of service attacks and your business would be shut down. So we all had this fundamental belief that to be successful in advertising there were dos and don'ts. The biggest do was to be as helpful as you possibly could be.  I think if you could go back in time and look at some of the advertising that was launched in banners in October through, say, December of 1994/1995 you would see amazing, groundbreaking work. It was very idealistic, very helpful, and very useful.
Things have changed. Like all kinds of advertising, everything starts out with idealism. Everything starts out wonderful and then you've got to start worrying about economies of scale. You've got to worry about things like talent, which you're involved with. For instance, in the early days of advertising some of the best talent in digital marketing was devoted toward creating banners. By 1999 and the year 2000, when every advertiser had adopted advertising the talent pool had been tapped out. So the vast majority of people that had devoted their lives to banner marketing weren't as idealistic and weren't as mindful at being helpful and weren't as talented I don't think as some of the people in the early, early days of advertising. So now, we are at a time when advertising has become more about reach and frequency like traditional advertising than it is about helping, so no I don't think banner advertising has fulfilled its promise at all. I think it's been a huge disappointment except for those companies that are involved with building the infrastructure and they've been able to monetize it and agencies that have been able to make a lot of money on selling really bad work.
DT: I had opened up the program here by saying that I had the opportunity to see some of your work. It was at quite an informal setting. We were at a local pub where you opened up your iMac, and I came to the realization very quickly after I saw your first piece or two of work that all content is not created equally. What's your thumbprint on your brand of content delivery that makes it so unique?
JM: It starts with the question "How can I help you" and never asks "What can I sell you?"  It always keeps in mind that something has to be sold, there's got to be some sort of a transaction that happens. But just like when you go into a retailer and the first question the sales clerk asks you is how can I help you? – We know that the best way to start a selling relationship is to begin by helping somebody. My brand of content is always going to be about helping. TV spots are content, radio spots are content, print ads are content, but if you go back in history and look at the most successful TV spots and the most successful radio ads, and the most successful print ads they're all focused on helping.
DT: So who is your typical customer – what is their typical problem? What are they asking you to help them with?
JM: The typical customer, there's actually two now, they're in combination. The typical customer is a publisher. Often times they have traditional print products. They're the ones that are trading the dimes for print for pennies on mobile and they're trying to figure out how we can help advertisers get into the content space in a very authentic way without crossing that border between church and state. So we don't want advertisers to rule our content but we're acknowledging the fact that advertisers have to be within our editorial well if we're going to make money and if advertisers are going to be successful. On the other side of the aisle, our advertisers that are understanding that they're not getting consumer attention in mobile, and that's why they're not paying very much for banner advertising in mobile and I'm helping them figure out – what is our content strategy? How does seasonality and content calendars affect our business? What's the work flow that we have to figure out in order to make sure that we've got this steady flow of useful content reaching consumers within the editorial well on the publishing side?  So it's really bringing advertisers and publishers together to work together in unique ways that have never been done before.
DT: It feels to me, that what you're describing are all of the ingredients that have to be assembled to create a very high quality, consumer experience, so that they can ingest the content and so they'll want to ingest the content. So what comes to mind when you think about those pieces of the puzzle that each organization that you work with – I assume that they're different – it's a different formula. How do you get to that formula when you work with a client, because you've got to find the roadmap yourself? So how do you approach that and get into the guts of it?
JM: There are a couple of tact's that I normally take with a client, especially on the advertising side. For an advertiser I would say – let's get a giant room, a war room. As large as you can imagine, depending upon what brand you're talking about. Let's take everything that you're creating that's consumer facing – all your radio spots, all your TV spots, all your print ads, your direct mail – everything. Let's get it up on a wall. This is a slog – let's take a look at every piece of consumer advertising that you're creating and let's ask ourselves – is this helpful? Who am I helping? What need am I fulfilling? And if we can't identify how we're helping people then let's remove it from the wall and let's remove that money from the budget. Let's stop spending money on anything that is not helpful and useful to your customers.
DT: I'll bet that's kind of a painful process.
JM: Oh it's really painful.
DT: Right, it's like saying why do you need this appendix, it's got to come out. Oh wait; I'm kind of attached to my appendix!
JM: Right, most CMO's are on auto-pilot. The way that marketing has always been done for the past 50 years since the first TV spots and you're still doing it the same way despite the fact that the world has changed entirely. This movement to mobile changes everything and what's happening is advertisers are learning – well content works in mobile, maybe it'll work in print, maybe it'll work on TV, maybe it'll work in direct response and it does.  This movement to mobile doesn't mean you've just got to revisit how you're doing digital advertising or mobile advertising it means you've got to revisit how you're doing all advertising because everything is changing. Consumers are learning and advertisers are learning that being helpful and useful makes a huge difference.
DT: So if you were in a room full of CMO's who were struggling with their art, their business and the way they approach there business, what words of wisdom would you give them? I know that's a tough question, right – I came at you without any preparation but give it a whirl. What would be the 2 or 3 things that would say, you know what – this is how you need to approach your brands and add value?
JM: I would say two things. The first thing is – you need to understand that this is a historic moment in advertising. It is changing forever for the better; we are on the edge of a creative renaissance.  I think the mobile banner represents the dark ages of advertising; it's about as low as we possibly could get from a creative standpoint, from a storytelling standpoint, from a monetization standpoint – it's the low point. But just like the dark ages that happened in the 1300's we're followed by a creative renaissance – that's what's going to happen in advertising. When advertisers understand that being helpful and useful makes a difference, when they're creating content that changes people's lives it's going to change everything. It's going to be much more creative and useful. So that's the first thing, just remember- just think about that you are on the precipice of goodness.
The second thing I would say is, and sometimes CMO's will roll their eyes when I first say this: remember the golden rule- Do unto others as you would have them do unto you. I would say, treat your customers the way you want to be treated. Nobody wants to be sold, everybody wants to be helped. That's why I say, start out by taking every piece of consumer facing communications you have and ask yourself – am I helping people? Do I want this to be delivered to me? Do I want my wife and children exposed to this? Is this the kind of help I want to deliver to my family? If the answer to any of that is no – get it out, start all over and rebuild yourself as a helpful, useful organization.
DT: Joe, we are unfortunately running up against the clock. What I would like to do is, because I suspect a lot of listeners to this podcast are resonating right now to the kinds of things you're saying, is give you an opportunity to let them know how to reach you and the kinds of things you are doing. So how would our listeners reach out and connect with you to directly?
JM: Thanks for that Dennis. The best way is by email which is Joe@thewonderfactory.com and I usually respond in 30 minutes or so.
DT: Thank you for being on Game Changers Live. It's been a great, great time listening to your words of wisdom for CMO's and how you see the future of marketing, and we appreciate your being with us today.
JM: Thanks Dennis.