Interview: Reid Hoffman, 
Founder and CEO of LinkedIn

(transcript)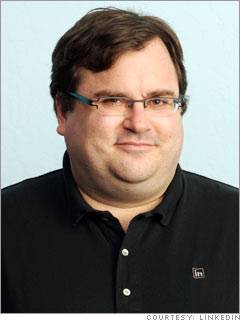 Robert Reiss: We're here today with Reid Hoffman the Founder and CEO of LinkedIn. Reid, what gave you the idea to start LinkedIn?
Reid Hoffman: What I realized was that there was a convergence of two factors. One was that the Internet is a place where everyone can be a publisher and be online, and then the other one was that every individual is now becoming essentially a small business of themselves. What I mean by that is that they work at one place two to four years; they have to develop their own career, their next job opportunity and everything else. I realized that the intersection of these events would create a really great platform for how individuals can manage everything from their daily productivity to their career.
Robert Reiss:  Right now everyone is focused on Web 2.0. What do you think Web 3.0 looks like?
Reid Hoffman: Interesting question…. Silicon Valley always tends to get a little ahead of itself in this area…. I've heard the expression Web 3.0, and I'm not quite sure what it means. Perhaps the best candidate is actually the applications that get built on Web 2.0 platforms. So, for example, LinkedIn has a platform by which people can put applications on it or integrate it into other technologies like clients and other websites and so forth. That may be where Web 3.0 is headed. I myself still think that Web 2.0 is still in full swing. Basically the idea of Web 2.0 is: you have millions of people all participating … this will give rise to all sorts of new and exciting applications.
Robert Reiss: Reid, you're obviously at the forefront of technology as the founder of LinkedIn…you're an investor in other significant places on the web. When you look at technology landscape, how do you see technology changing the most significant challenges of the world that we live in?
Reid Hoffman: Clearly, part of what internet technology does is it allows people to connect with each other in ways they haven't before. It allows you to find other people, communicate with other people both "one on one," "one to many" and "many to many"…all kinds of different configurations. And that kind of discovery of other people and ability to communicate and coordinate with them is massively transformative.
So in the case of LinkedIn, it's finding the right people. One way of looking at how LinkedIn functions is it's designed perfectly for an entrepreneur, because entrepreneurs need to find co-founders, advisors, customers, employees, and distribution relationships. Why? Because it helps you innovate, move faster, get the right information, make the right decisions, and assemble the right resources. All of that technology enabled ability should be very powerful and transformative.
Robert Reiss: How would you describe the LinkedIn culture? What factors drive all this innovation and success?
Reid Hoffman: What we try to do is run "startups within a startup," … no small challenge as we're now at 360 people. We try to create small groups who ask for forgiveness rather than permission … they zone in on, iterate on and develop new services, as opposed to being a completely top-down run culture. Small groups that can make the decision themselves can drive much harder than [when] you've got to wait for the signal from the top.
Robert Reiss: Interesting. And when you think of the "power of the small", there are certainly companies that are utilizing the power of social networking particularly well today. Who comes to mind for you?
Reid Hoffman: Well, there are a lot of small businesses that are doing everything …including hiring all of their people through LinkedIn. One of the examples that I found more personally delightful was a lawyer who diverted to be a mom, then came back to and started assembling a law practice of returning moms so they could both return to their profession as well as look after their kids.
Robert Reiss: Reid, as you know, today we're also joined by Dennis Troyanos and Norman Sherman, of the Troyanos Group. Dennis and Norm are experts at placing senior executives in the intersection of marketing and new media. I've invited them to ask some key questions about the new media area.
Dennis Troyanos: Earlier, Robert asked about the culture issue at LinkedIn…I would like to pick up on that theme and turn the question to the issue of "leadership." How would you describe the mosaic of skill sets that you look for when you hire senior-level executives at LinkedIn?
Reid Hoffman: Beyond the classic stuff that you look for, such as charisma, ability to hire, and the experience to motivate a group of senior executives to work together, we also look for an ability to innovate, which actually means a certain tolerance for the fear of failure because innovate is frequently spelled RISK. There is no way to get innovation without incurring some risk.
We also look for a very fast clock in terms of learning speed. One of the things that is a characteristic of most modern businesses – but especially consumer internet businesses and businesses like LinkedIn – is that the world is changing every month. You need to not just be learning how the world is changing but adapting your own practices to it. That sort of very fast clock learning speed is very important.
Dennis Troyanos: In your experience …what kinds of organizations cultivate these kinds of innovative thinkers who have a great clock speed when it comes to learning and adapting?
Reid Hoffman: I'm very much a Silicon Valley guy, so I'm most closely up to speed on SV organizations. Usually consumer internet or software businesses are a good breeding ground for this kind of talent. They are generally made up of all the same genetic DNA that I was just talking about.
Norman Sherman: From our vantage point as recruiters we see many companies excited about using new technologies to reach high-value segments in engaging ways. The critical piece that seems to be missing in many cases is the ability to measure tangible results of this kind of activity. Do you think that the ability to measure results will be a factor in the growth of social networking, or do you think it's still going to be about how many eyeballs and ears you reach?
Reid Hoffman: To some degree the answer is both. Clearly there's an extremely important role for measurement, because that allows you not only to know how effective you're being but allows you to iterate your product and do it better and better and get to new things of really substantial scale because you're in effect measuring your result. That's critical for the innovation process and it's one of the reasons why measurement is important. On measurement: it's not just online things but memory, retention, awareness… those sorts of things are also measureable. That all being said, in terms of reach, with eyeballs and whatnot, it's best to have the reach with the measurement.
Dennis Troyanos: A lot of our clients are thinking very hard and deep about the user experience issue. We'd like to get your sense of some of the lessons that are being learned every day at LinkedIn that will be translated to the online consumer products marketing arena.
Reid Hoffman: First, always focus on the user. Have a way of engaging, making sure that you're offering them a value proposition, and then in terms of what you're offering, being able to quickly iterate to get to the right space of what's valuable for them.
If you don't actually understand what the interaction is and really pay attention to the value proposition they're getting then it doesn't work. It's one of the ways that I think that consumer internet will transform many diffe rent areas of software, of marketing, of interaction with millions of people.
Norman Sherman: Reid, there are a lot of me-too brands out there who see the success of LinkedIn and they're obviously looking to cash in on some of your success. How do you think about these competitors? Are you happy to have them?
Reid Hoffman: Well, in one sense competitors, inasmuch as there are some, always help you refine and define your own business. The value of the ecosystem goes up by the competitive race. If they create good synergies or a good vertical that works with our very broad professional platform then it's something potentially interesting. The question is, sometimes some of these competitors tend to be a little bit too spammy. The ones that offer good services add value to the whole ecosystem; the ones that are less high integrity are more of a problem.
Norman Sherman: Market leaders play by a different playbook than challengers and followers. I'm curious to know, from your position as a market leader, what are the things that drive you and your company to stay in that leadership position?
Reid Hoffman: The most central piece of religion that we have at the company is that our first and primary customer is always the individual professional. If everything that we do couldn't be printed on the front page of the New York Times in terms of how we interact with individuals then we don't do it. We're always first and foremost about the individual, and it's that connection with the individual that I think leads to growth rate. Presently, we're growing at a million new professionals every 17 days, and that's worldwide, and I think it's because of that connection with the individual.
Norman Sherman: We see a great number of user-generated innovations coming on LinkedIn. Lots of new discussion groups are forming. You probably know that we formed one about a month ago called Game Changers, and we're fortunate enough to have gotten over a thousand people to join in a very quick period of time. I'd be interested in knowing your point of view on how you think the group should evolve. Should we let the members of the group drive that evolution or should we be having a deft hand in helping it evolve in a direction we want it to evolve?
Reid Hoffman: I think that the answer is both. On one hand, part of the dynamic with the most powerful things on the web is having a really good community interaction with your constituency and the set or people around you…. listening to their voices, engaging in conversation, getting them to feel co-ownership with you and putting the right discussions, the right information, the right links into creating a really good central repository of knowledge and interaction.
It's important to interact with [it] day by day. On the other hand part of what you're trying to do is add some high-level guidance; you've got an ecosystem. It isn't command and control, it's putting in some good suggestions, direction, making sure you weed out – if you have a crazy person join the group, get them out of the group – that sort of thing. The answer is really both.
Dennis Troyanos: Well, Reid, if anything is clear it's that you're on the forefront of inventing the future of business. How are entities like YouTube and Facebook viewed by you, and how are they being integrated into the LinkedIn platform?
Reid Hoffman: The YouTube guys are friends of mine and I'm an investor in Facebook. We look at them as solving different problems. In the case of YouTube… there is a world for professional video. There is an ability to get video integrated in some specific circumstances. Facebook tends to be a lot more pictures and games and other things, so as much as we love what they do we don't connect as much with that. Twitter's ability to post what's going on right now through the internet is pretty useful. The things that extend a professional's reach in terms of their ability to be productive, their ability to be informed, those are things that we look to integrate into LinkedIn.
Norman Sherman: So as we're coming towards the end of this interview, I'm curious to know: if there was one thing you'd like to redo at LinkedIn, what would that be?
Reid Hoffman: I guess what I would probably have done is – we launched an early version of groups back in 2005 – I think I would probably have done something else then. What we're working on now is making groups more robust. The lightweight platform wasn't strong enough. Groups and professional associations, everything from your former colleagues, your former classmates, your current company, your special interest group, your professional association, those are all one of our primary focus areas right now.
Dennis Troyanos: OK- So here's the recruiter's question, Reid. 20 years from now when a biography is written about Reid Hoffman, what will the book jacket say?
Reid Hoffman: That's interesting. Hopefully it will say "transformed the role of business." Everything from how individuals were affected day by day and week by week and into their career and in terms of how individuals came together and made an entire company more effective.
Robert Reiss: One thing that our listeners always want to know is what do you think the next big idea for Reid Hoffman is and when do we hear about it?
Reid Hoffman: Hopefully it's coming through LinkedIn. I'll give a key phrase for it, which is one of the themes that we iterate on: personal business intelligence. That is … what's the business intelligence you need as an individual in order to be effective.
Robert Reiss: What advice – we probably have at least several hundred thousand CEOs and top executives listening into this show – would you give to entrepreneurs about success? This is our final question.
Reid Hoffman: It would be in quick three bullets. The network of people around you is what extends your ability to be effective in terms of expertise and reaching your goals. Fail fast: really put yourself out there and get the feedback. And the third is don't be afraid to take a risk.