| | |
| --- | --- |
| A Troyanos Group Ltd. Publication | Volume III, July 2011 |
The Troyanos Group is fortunate to be able to offer its subscribers a sneak preview of MaryLee Sachs's highly anticipated book, which is scheduled to be released at the end of July. In it, she discusses the ways in which the convergence of brand and reputation is disrupting marketing, particularly when it comes to the line between marketing and public relations. With these areas already coming into contact, and with social media accelerating the process, Sachs explores the ways in which companies are benefiting from a blended approach.
Sachs, most recently U.S. Chair and Worldwide Director of Consumer Marketing at WPP firm Hill & Knowlton, is a uniquely qualified observer of these trends, having spent more than 25 years advising blue-chip, multinational corporations on integrated marketing practices in the international arena.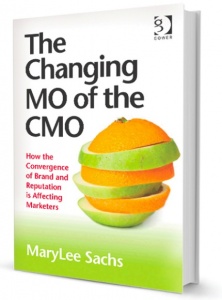 Excerpt: "There is no one right answer to the conundrum of where PR belongs in an organization. Much depends on the specific organization's challenges and objectives, type of business, category landscape and geographic reach. Historical silos, culture, personalities and budgets also play factors, or can be hindrances in affecting change in organizations. At the very least, one can assume that the traditional role of the CMO is changing and becoming more subservient to the customer, and that in turn is affecting strategy and structure across organizations…."
The Troyanos Group, Ltd. is an Executive Search and Consulting firm specializing in Marketing and Marketing Communications.
https://troyanosgroup.com/