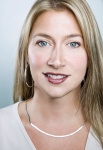 Ask And You Shall Receive: The Most Important Thing Marketers Aren't Doing
By Suzanne Kyba
Vice President, Brand Strategy for Door Number 3
Today's brand evangelists are right under our noses, but lack of foresight and keystrokes keep them at an unsafe distance.  This army of believers holds the keys to the future, and they are willing to share that power IF we do one simple thing – ask for it.
For about the past 15 years, one of the greatest challenges of my job has been to identify, profile, prioritize and locate the invaluable and often elusive highest potential customer for various clients, from Fortune 500's to start-ups. Seeking out a person who will not just passively consume, but rather care so deeply about a particular brand and what it stands for that they will go out of their way to find it, devote time to it, talk about it, spend their hard-earned cash on it and then share it with friends. These people are a brand's loyal brand ambassadors, the holy grail of consumers. And they will lead us to others like them.
15 years ago, finding these low-hanging-fruit customers was a laborious and costly endeavor, even for the biggest, most established clients (not to mention those with less robust budgets and reputations). But today, these gold-nugget consumers reveal themselves in the marketing sluice box by actually initiating relationships with clients big and small, every day, through social media.
For the past few years, everyone's been so preoccupied with finding ways to monetize social media that many have lost sight of some of its less sexy yet immensely powerful inherent value. Let's forget about standard ROI for a minute. Let's talk about the millions that could be saved by circumnavigating landmines, and the millions potentially gained by working smarter and basing major marketing decisions on the opinions and advice of a brand's most passionate advocates, all for little to no cost. This may sound obvious. But nearly every day I'm struck by how many brands are not utilizing this God-send of a marketing research tool to learn and to strengthen relationships.
You may remember last summer when Tropicana introduced an all-new package design without first doing a pulse check with their loyal customers. (Google "Tropicana redesign" and "debacle" will automatically generate). Upon release of the new design, mortified fans instantaneously stormed social media outlets to voice their distress as sales plummeted 20%, adding insult to the injurious $35 million redesign fee.
And earlier this month, there was no avoiding the controversy surrounding the new Gap logo. Immediately upon the logo's public debut, Gap loyalists flocked to Facebook and Twitter to express their discontent. Perhaps the most creative response it spawned came in the form of a website where individuals can enter their name or organization and have a Gap-ified logo automatically generated at www.craplogo.me, which simply drops your text into the new Gap logo template. This all could have been avoided if they'd only tested the waters with their existing social media fans, who undoubtedly would have raised an immediate red flag. One thread of the silver lining for Gap was, unlike Tropicana, they wisely did not produce and distribute all of the new packaging and signage before introducing the logo to the public.
Not only can brands gather meaningful, candid data from their most passionate and valuable consumers, but in the process brands will engender deeper loyalty and strengthen their relationship with these customers and their families simply by giving them a voice, thereby enhancing their sense of personal value with the brand.
Perhaps the savviest social marketing application to date was done by Nestle's Juicy Juice, credited with being the first global brand to incorporate actual consumer social media feedback into an ad campaign. Juicy Juice placed ads on mom-centric websites like www.babycenter.com and www.cafemom.com, asking questions like, "How do you stimulate your child's mind?" and "How important are vitamin-enhanced foods to you?", then featuring select customer tweets in the ads. Not only did this approach generate valuable customer data, but it activated a new legion of consumers with whom it created engagement and interaction. If there's one thing we've learned about the social media revolution, it's that people love to share their opinions. And if there's one thing we know about moms, it's that they love to give parenting advice to others. This strategy brilliantly leveraged the two, while seeding the idea that Juicy Juice cares about critical parenting issues like cognitive stimulation and nutrition.
Another fascinating emerging application of social media as a research tool is being done by artists, from musicians to painters, who query their fans and followers throughout the creation of a new piece in order to conduct instant online "focus groups" from their biggest fans (and critics), and steer the creative development accordingly. Whether this waters down the artist's original creative vision is a topic aching for debate, but regardless, consumers are quickly growing accustomed to having an influence over the media and entertainment they consume, marketing or otherwise.
According to Mashable, a top source for news in social and digital media, technology and web culture, 79% of Fortune 500 companies reportedly use social media. I'd wager that less than 20% are using it effectively, even fewer using it as a research tool or to keep up the type of ongoing, two-way communication they should be engaging in to get full value from the media. The most frequently used social media outlets by the Fortune 500 are Twitter, Facebook, YouTube and blogging, in that order. In most occasions these outlets are misused as pedestal platforms on things like posting corporate press releases, footage from executive speaking engagements or announcing new hires. This strategic gaffe is evident in the negligible number of followers and customer posts you'll find on most corporate pages.
And according to a June 2010 eMarketer.com survey, the four most important features people list as "inspiring trust in social media sites," which is ultimately the core of building any brand, are:
Dialogue allowing both positive and negative comments
Quality of comments and content
Responsiveness of sponsor and author
Volume of participation
If we've heard it once, we've heard it a thousand times – speak with people, not at them, and offer topics that will make people think and, ideally, take action. Think about it, when you meet someone new, do you prefer to quietly nibble on your breadstick while they list off every lifetime athletic, academic, social and professional achievement? Or are you more likely to befriend, date, hire or follow someone who asks your opinion, listens and responds?
If you don't already have a hearty social media fan base, there are plenty of public forums where you can gather research from passionate and knowledgeable consumers, whet the appetites of prospective customers and start building a reputation as a brand who listens. As a starting point, infiltrate services like StumbleUpon and Yahoo! Answers, or search for blogs and other social media sites pertinent to your industry, where you can often conduct the same style of inexpensive, guerilla research among similarly enthusiastic fans of your category, if not your brand. And there are also of course grander, more costly initiatives you can develop (such as the Juicy Juice campaign) which can start to build those strong consumer relationships and attract new social media fans, friends and followers for your brand.
If your organization is fortunate enough to have people who have taken time out of their hectic, over-saturated lives and gone to the trouble of inviting you into their world, seeking you out, following or otherwise linking themselves to you, take advantage of that convenient and remarkably qualified audience. Regularly check in with them about issues essential and non. And you've heard this before, but be sure you're maintaining an ongoing dialogue and keeping fans engaged, so that when it comes time for gathering essential research, you've got the biggest, most enthusiastic subject pool possible.  Ultimately, as marketers we need to remember that in today's transformed media environment, unlike any time we've known before, we have 24/7 access to a pool of hundreds, thousands, tens of thousands of willing, qualified research subjects just drooling over the opportunity to share their insights, if we'll only ask.
---
Suzanne Kyba is Vice President, Brand Strategy at Austin's Door Number 3, a boutique advertising and branding agency that goes far beyond causing consumer reaction.  Instead, Door Number 3 influences behavior. Suzanne can be reached at skyba@dn3austin.com / 512.583.1358