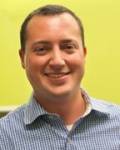 Art vs. Craft in the Workplace
by Mac Love
Today's agile new workforce thrives in kinetic environments that leverage art to engage, inspire, and provoke communication and creative thinking. So, why aren't we giving it to them?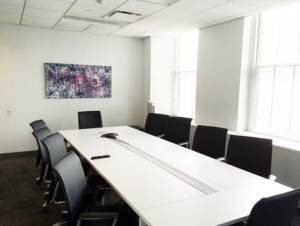 Based on recent polls, 70% of Americans are disengaged from their work. In a 2014 study, employees demonstrated a 15% increase in efficiency with art in their workspace1. An NHBCA survey of American companies supports these results with respondents testifying that art enhances the work environment (94%), reduces stress (78%), and boosts productivity (90%)2.
I believe too many people mistake craft for art in their workplace. As Ed Catmull, the president of Pixar Animation and Walt Disney Animation Studios, puts it, "Craft is what we are expected to know; art is the unexpected use of your craft."3
Look around your workplace and ask yourself, "What about this place is truly surprising?" If you don't have immediate positive answers, there's an excellent chance that you and your business have some untapped potential that art can unlock.
Here are five sins and exercises that will help you identify and leverage art to improve your business: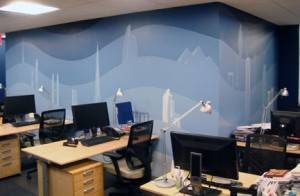 5 Art Sins that Stifle Growth
#1 – The Black Hole
Having no art is awful, but a workplace that doesn't respect it is even worse. The condition of your environment reflects your business' style, spirit, and character. Original art can establish a positive and engaging foundation of trust among those around it. If you take your decor for granted or leave it in disrepair, it will reinforce doubts, confuse, and negatively impact everything around it. This is the definition of a "critical mass" opportunity.
#2 – The Big Talk Down
Art is an investment in the culture of your business and should be leveraged for the benefit of its people. Reserving the best art for executive offices reinforces a sense of entitlement and mitigates the power of the work. Employees notice the difference between the generic posters in the hall and a $25,000 painting in the main conference room. As recent studies show, people working in "enriched" spaces (those decorated with authentic art and plants) are 17% more productive than those working in "lean" spaces (spare and functional). Furthermore, in workplaces that let staff decorate their own office space, productivity increases by a whopping 30%4! Investing in your people's art is a surefire way to ignite business and leverage your culture for growth.
#3 – Passing Fancy
The majority of decisions related to art in the workplace are left to the last moment and imposed on the workforce. In Europe, where art is part of the fabric of society, this careless approach wreaks of executive self-indulgence. In the United States, where art is a luxury, it simply devalues our impression of the organization and those associated with it. The key to transforming art from executive privilege to cultural catalyst is employee collaboration and education, replacing the inherent mystery of art with a palpable sense of purpose for all.
#4 –Fixed Point
84% of people today say that art improves the quality of life in the workplace5. As Seth Godin put it, "Art is the work of a human, an individual seeking to make a statement, to cause a reaction, to connect."6 We, as humans, appreciate the inherent effort and desire that drives us to create art. It is new and different every time we see it, because we are. That is the secret. To truly succeed with your workplace art strategy, the focus should not be the "who" of the work, but the "why". Taking a holistic approach can help you manage your space, and thereby the contributions of the people in it.
#5 – The Cool War
Forget "the office of the future." Forget communal "third" space. All we want is character. Not the kind that is created, prescribed, or divested from others. The workforce of tomorrow needs character itself, and the only way to get it is to earn it. Forget what's cool, get out of your own damn way, and show people what you're made of.
These exercises will help you replace craft with art; supporting growth through creative thinking and character building to position your business and brand for success you can be proud of.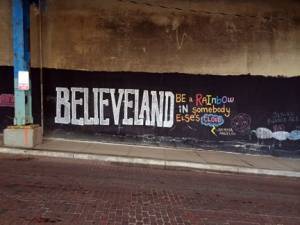 5 Art Exercises for a Flourishing Workplace
#1 – Collaborative Showcase
Dedicate at least one major area of your workplace to celebrate the creative diversity and talent of your team. Whether managed internally or by an outside partner, collaborative art projects and employee exhibits possess an awesome magnetism and command respect through shear strength of character and originality. These showcases build camaraderie, improve communication, and help creativity flourish.
#2 – Dent the Universe
Ironically, the most glaring victim of the new movement toward open-plan, transparent, and communal "third" space is actual workspace! To capture a big idea and get things done you need to be willing to put a dent in the universe. Embrace that difference. Give yourself the freedom to explore the unexpected, and if there isn't space for it, find it. Amazing things happen when you make a habit of disrupting the world in a considerate way.
#3 – Signature Skill
Sometimes the greatest artistic contributions we make are in the slight differences we bring to everyday activities. Find an example of something that others might not know about you and make it a part of your workspace. Better yet, invite others to share their signature skill and get to know one another! Flying your freak flag is a great way to break the ice and create deeper, more meaningful relationships, both in work and life.
#4 – Wayfinding
Art in the workplace is often used to illustrate and define certain areas and environments. These pieces become landmarks that help us navigate new and complex environments. The experience of moving through a space can create a sense of flow/friction and belonging/alienation that has a powerful effect on our behavior and attitude. What is the first thing you see in the morning? What sits to the right of your computer? Changing a simple element in your environment can have a profound impact on the way you and others feel. Try it and see what happens.
#5 – Pay It Forward
Your business is not confined within the walls of your office. The state, city, district, neighborhood, street, and community around you are all contiguous to what you do. Some people find success investing in work by local artists. While this is a popular and safe approach, I would argue that your interests might be better served volunteering to make a difference in the local community. Paint a school, plant trees, pick up garbage, build a garden, or serve a local cause. Charitable team-building exercises empower and embolden participants with their ability to make an impact in the lives of those around them. Art does not have to be a physical object. It can be an activity, and found in the generosity and compassion that we share.
For the record, in the past 50 years, the most important patron of the arts has been corporations. As Peter B. Lewis, longtime CEO of Progressive Insurance said, "Art inspires. Inspiration begets invention. Invention creates change, and change ignites progress… This art is not mere food for thought. This is fuel for fire."7
As you consider the importance of creativity and innovation toward the successful growth of your business, I challenge you to do the unexpected. Exercise your artistic impulse. Not only will it surprise you, it will give everyone a better reason to work with you.
---
1 Making Art Work in the Workplace, Research commissioned and undertaken by International Art Consultants (www.internationalartconsultants.com) in partnership with the British Council for Offices (www.bco.org.uk), with research by Dr. Craig Knight, Director of Identity Realization (IDR), University of Exeter
2 New Hampshire Business Committee for the Arts (NHBCA) report based on a survey by the Business Committee for the Arts, Inc. (BCA) and the International Association for Professional Art Advisors (IAPAA), first published in 2003.
3 Ed Catmull, Creativity Inc. [Random House, 2014]
4 Making Art Work in the Workplace, Research commissioned and undertaken by International Art Consultants (www.internationalartconsultants.com) in partnership with the British Council for Offices (www.bco.org.uk), with research by Dr. Craig Knight, Director of Identity Realization (IDR), University of Exeter
5 Victor Lipman, "The Motivational Benefits Of Art In The Workplace," Forbes, July 31, 2014.
6 Seth Godin, "Decoding Art", http://sethgodin.typepad.com/seths_blog/2013/10/decoding-art.html (October 1, 2013).
7 Matthew D. Chmielewski, Successful Corporate Art Collections: Two Case Studies, (May, 2010)
William "Mac" Love is an international artist, brand consultant, and cultural catalyst. His work is on permanent exhibit in New York, Los Angeles, Tokyo, Singapore, Berlin, Paris, Edinburgh, and London and he has been called "the next generation of great American artist" (The Scotsman, 2004). Mac has also developed award-winning brand strategy, design, and innovation projects for Procter & Gamble, Disney, Bayer, Rubbermaid, Keurig, Benjamin Moore, Campari, Anheuser-Busch, Pepsi, Nestle, Kraft, and others. Mac currently lives in Ohio and works part-time at Kiwi Creative, a small brand, graphic, and website design company while continuing to work as an independent artist and brand consultant. He can be reached at (860) 389-2944 and justlove@mac.com.