Agency Profile: An Interview with Catch
Larry Adler: Hello everybody, this is Larry Adler with the Troyanos Group. This is a Game Changers special edition newsletter with our agency feature. With me today are Joe Perello, Arie Kovant and Doug Spitzer, the founders of Catch NY.
I'd like to take a moment and have you all get to know these guys. Let's begin with Arie Kovant who will give you a little bit of background about himself.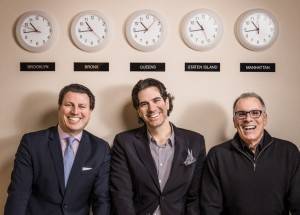 Arie Kovant:  Hello everybody. I'm Arie Kovant and I've been in the agency business for about 35 years. Right after school I went to work at a large agency. Worked there for 2 1/2 months and hated every moment of it.  So I decided to make my own breaks and start a design studio that eventually morphed into an advertising agency. Some years later I sold started a new agency, ran it for about 11 years, and finally in 2008 sold it and decided to retire. That lasted about a little over a year and I got the bug back in me and decided to find the right partner to start another agency and that's how Catch began.
LA: Thank you Arie. So you had to find the right kind of person to connect with. So let me turn it over to you Joe Perello because you were one of those people, so let's hear a little bit about you Joe.
Joe Perello: Thank you Larry. Hello everyone. My name is Joe Perello, I'm one of the founders here and I have the opposite background of Arie in the sense that I've never worked for an agency before we started Catch. I've always been a marketer; I've always worked for pretty large brands – started as a direct marketer with MBNA which is now Bank of America. I had a great opportunity to work for George Steinbrenner and help the Yankees grow their brand around the world. Then worked for Mayor Bloomberg and started the league office for the City of New York. After those awesome experiences I had the bug to start an agency. Ironically, I got introduced to Arie at a Yankee Game. He introduced me to Doug and the three of us started Catch and 4 years later we are 35 strong.
LA: And on to Doug Spitzer:
Doug Spitzer: Thanks Larry. I am the Chief Creative Officer here. I started out at some big agencies after a failed law school stint. Left big agencies to go of all places to the NFL in NY, spent 6 years there and dawdling around at the other leagues. I eventually met Arie at his previous place and spent time there until he ditched me after he sold the place and I was stuck with a new fangled agency that was redefining the world. After I realized that was bogus I took my own time off and then we got started.
LA: Thanks Doug, a most unusual beginning. Joe, let me come back to you for a minute – obviously the bulk of your experience has been on the client side and that must bring a pretty unique perspective now that you're on the agency side in terms of the ways in which you like to work with people. You want to talk a little bit about that?
JP: Yeah, I think it's helped us. You should ask Doug or Arie if it's helped them, but from my point of view I believe it has helped us serve clients in ways that perhaps they've never been served by agencies before. And the first thing is, I've always been a data driven person being a direct marketer and I've always cared about the results and I never really cared about how we got there. I really just wanted to drive a result because that's how we succeeded in the corporate world. Coming from the agency side I have tried to instill in our clients that we need to be in the mix with them understanding what's working, what's not and why. As a result, the best relationships that we have right now are the one's where the clients are in it with us; we're on phone calls with them discussing issues that maybe other agencies typically have never been a part of. We have access to data that is enabling us to hone and refine our creative, our media, everything that we do. And I think it's been that approach that has helped us to grow as fast as we have.
On the negative side I don't have the skills that Arie and Doug do with respect to telling people what's good and what's not creatively– or to be more precise how to tweak the work to take it from good to great. From my point of view, as the client, as you probably can attest to Larry; it's either good or it's not. And I don't yet know how to coax the right kind of work out of a creative team, and I really rely on Doug and Arie to make that happen here at the agency.
LA: It would seem to me that it's fair to say that that client orientation goes a long way in terms of how to deal with the client, understanding what some of their needs are.
JP: Yeah, I mean it does.  I try to deliver what I would want delivered as the client. And more often than not we are successful in doing that and sometimes it's painful but it's worth it.
LA: OK.
DS:  I think Joe raises a good point. Arie has an unusual background even though it's been at agencies and start ups and repeatedly finding success.  I have a lot of in-house  experience working as a consultant so what  it's done is drive us to not only look for those solutions even though they may be a little out of bounds for an ordinary agency and ordinary process. It's also taught us to look for talent that has abnormal backgrounds. To really open up the gates and let in people and meet people and sort of hunt for people that haven't just been churned through agency mills. When you look only at those people what you find are the same people over and over again and their expectations and the way they look at things are very different. And what I think clients are finding is people, even at a junior level, who are far more interested in being much more collaborative and knowing much more about the business that the client is doing rather than just: Here's the work.
AK: Actually the last few hires here never worked a day at an advertising agency. Which is unusual.
JP: And our clients have been commending us on this fresh approach. I mean some clients like Loewe's Hotels hired us because we didn't have any experience in the hotel category and they were counting on us to come to them with a fresh perspective.  Because they were really looking to break through. And that was what the brief was: we are a successful company but we need to breakthrough as a brand and we want you guys because you've never worked for the hotel and we are counting on fresh ideas from you.
And that is the approach that we've been trying to take with the rest of our clients.
LA: OK. The agency Catch was founded a short 4 years ago in 2010 and clearly there is a maturation process that takes place. The agency is growing and I'd like to know what do you attribute your growth and where you are today as a brand?
DS: So, I'm sure Joe will want to chime in about the business parts of the growth. I think for Arie and I, we focus a lot on the culture that exists here. It's been really important to us to make sure that people feel that it's a family. I think all three of us look at everyone being a part of this, everyone having a say in things, everyone being able to chime up, no one being afraid to speak to us about anything that's going on here, the business we have, client issues, anything. The overall maturation has been pretty smooth. We've looked at clients in categories that we felt would not only help the business but help us grow intellectually and help us diversify the services we've offered. And I think now we are at a place where we are ready for those next steps, we're ready for those new client challenges because we feel like everything we've tackled so far we've been pretty successful at.
LA: So if you look at your website you clearly point out that you are an integrated, creative growth agency. Those are all obviously very good, powerful, positive words. How about talking about that a little bit, put a little definition to it.
JP: We've always been about growth. That has always been at the heart of everything Arie, Doug and I have wanted to do. Growth for our clients because when you boil it all down that is the only reason why someone is going to retain you. What our maturation process has helped us identify is three important areas that we feel agencies will need to have in the future and they are:
– Advertising which is insights and creative and all the different ways that you can produce commercial content and ads are only a small part of that. So that's the advertising agency.
– Management Consulting and an Innovation Group because data has really changed the way in which we can find insights and we've got former Accenture and Microsoft people in that group to find new ways to find insights into customers and to create  new ways for marketers to reach people, it's all about marketing innovation in that group.
– Paid Media and Analytics Group and that's the most exciting part of it because we are getting closer to solving the old question "what half of my advertising works?" That age old John Wanamaker saying – is he doesn't know which half works, but we're getting there. We are actually able to figure out what works and what doesn't and we're actually able to go back to Doug's creative guys and say people are responding to red they are not responding to blue. They're responding to this line, not that line and he can make changes and just increase the ROI every step of the way.
DS: Yeah, I think there's definitely times where I have to tell the guys in the creative group that – Listen this data is so important that it's really nice what you think but we need to test this out, we need to try it and we really need to see, and then there are times where story is going to be king no matter what. And that creative takes as much importance as the growth. But we really know and we made a pledge to each other that at the end of the day it was going to be about the growth of all of our clients no matter what business they were in and what they were doing.
LA: That's great.
JP: We are now at the point where we are marrying data science and story telling. We are now at the point in the agency where that is a reality.
AK: It goes a little further. Clients are asking us / involving us in their business issues that not necessarily have a marketing solution but business issues… we help them solve issues. I have a client who is basically taking me with him to every meeting where he is considering new business or new acquisition just to get my feedback.
LA: Well that's a real indication of tremendous confidence in you Arie in particular and the agency as a whole to be that trusted advisor beyond just make me some good smart communications. Correct me if I'm wrong but it helps really understand a client deeply which ultimately is going to help you create better marketing for them.
AK: That is correct
JP: That starts with trust and I think the # one thing that I'm very proud of that we've been able to accomplish is the incredible trust that our clients have placed in our agency and in us personally.
AK: They do because we're accountable to anything and everything. We are not afraid to say we can't get you the answer now; let us get back to you.
JP: We are not afraid. We are not afraid of accountability in any way.
LA: So let me dive a little bit deeper as you were going through those three areas. You talked about the creation of an innovation group which I have to say for an agency of your size is rather unusual. It usually is in the structure of very large multi-divisional agencies. So I'm really interested to hear why you've done it and what your expectations for it are.
JP: Innovation is critical for any business in any industry to stay relevant and grow. When we envisioned our innovation group we didn't want it to be an innovation group that was really an advertising group. We set out to find people who were at the forefront of creating new marketing solutions with technology at its core. And in that group, which is not very big right now, we've got folks from Accenture, Avinod and Microsoft and we're engaged in actual innovation creating new marketing products. The first one is we are reinventing the ATM for a very large ATM network and the second is creating a marketing and insights lab that will enable marketers and brands to predict the future in their particular industry.
It's an exciting group for us and it also lends itself very well for our traditional agency clients to come up with a new way to solve problems.
LA: Thank you Joe. Let me ask this question. What should a perspective client expect from you here at Catch that would differentiate you from other agencies?
AK: I know other agencies are all using the cliché of partnership and an extension of the client. But we live it day in and day out and sometimes night in and night out and sometimes weekends in and weekends out. We have clients that involve us in a lot of their business decisions and sometimes those conversations go late into the night, through weekends through holidays because it has to keep with the pace of their business and we are always there for them. Therefore the incredible trust.
DS: Larry what we usually say is that we'll kill for people, no one's ever taken us up on it which we appreciate it but that's the short version.
JP: It is our sentiment. We understand that when people hire us they're putting their career in some ways in our hands. That is a very personal decision that impacts themselves and their families. So, while I try my best not to take things personal, which is hard cause I'm Italian, in this case it is critical for us that we make this personal. That we care personally about the success of everyone we work for. And sometimes they're like – wait hold off guys. Let's not get too deep into it. And we'd rather them pull us back than have to push us along.
LA: I think that's a great attitude because you always want to try to give us much as you can. So can either of you or all of you point to something that you are most proud of?
JP: Doug's hair (laughter)
DS: I'm proud of that too. Thank you very much.
I'll tell you what I would say, is that we're most proud that we've stuck together in such a tight way because when you do this ride especially because we started at a really dangerous time as I think anyone can figure out – we started in 2010. You know it's tough, its tough and you go through a lot of things and making a decision like resigning something can be really brutal but I think we're really proud that not only of just continual growth and that we have a major family out there but that we've really continued to do this to be each others best champions and to really stick it out and go through this and identify what's next. I think the other thing that's really tied to that Larry is just looking at resources as we need to add them. It's tough when you're growing and as you get to the size we are now and we all at times have sort of sacrificed our own groups and said you know what – maybe we're desperate in this area but you need this because you're short here and you really need that help lets do that. And we have sort of balanced it to make sure. So those might be not be the typical successes you're looking for but those are things I'm more proud of.
LA: That's great.
JP: I have to echo what Doug said. I'm very proud of how we've stuck together because it hasn't been easy – we started with no money and no clients. I am also very proud of what we've been able to accomplish for our clients. For And One we have done amazing work, we are turning that business around. For the client that will remain nameless that we resigned I am very proud of what we accomplished for them. I'm proud of every single piece of work that we put out there and when our clients win awards it makes me incredibly proud. And I'm proud that those brands and those clients put their trust in us and the people out there are trusting us with their careers as well.
AK: I'm proud of the fact that 4 years later we are as focused and as hungry as day one. And we have to keep pushing and pushing and think of our own growth as we help our clients.
JP: Happy but not content
AK: Never content.
LA: So as we look to the future and clearly this is an agency that is on the way up, apparently doing all the right thing, creating great relationships with clients. Where would you like to go in the next year or so?  Is there a category of business that you'd like to try and penetrate?
JP: I mean, no – there isn't. It's more of the kind of person that we want to be with. The category is not important to us. If it's an important category and they want to do important work that's great. What's more important to me is that we are working for someone who is our sponsor, right?  Who cares as much about getting great results as we do and who is going to let us in to his/her business so that we can truly be effective and these are typically mavericks. These are folks who are not looking for 4% growth they're looking for 20% growth or 100% growth or they're trying to break through or they're trying to turn something around so those are hungry people, those are aggressive people, those are people who are willing to take smart risks. That's the kind of person that we are most effective with. If they are in the liquor business – great, if they're in the car business – great, if they're in banking – great.
LA: Well I think that's a very interesting perspective in that it's less the category of business and more the type of person and type of attitude of where they want to take their marketing and communications.
DS: We used to talk about that in the beginning and do the matrix on the wall and all the start up things – we got away from that. We do have a long term sweet spot in retail and always feel like we can handle that and we'd love to deepen travel and tourism things like that but we really feel like it's just the personality and we know, we've been in a lot of rooms for different pitches and all that and you just know from that first meeting is this someone who's going to get our bad humor and all. Is this someone who is going to want to take those risks and do those things?
AK: Chemistry – it's all about good chemistry.
LA: Well on that note all about good chemistry is a great summation of everything that we've talked about today I want to take a minute and thank you Doug, Joe, Arie for giving us a little time and a little insight into this fabulous agency that you have. We look forward to following your progress and know that in less than a very short period of time this will be an agency that's making its mark in tremendous ways. Again, for The Troyanos Group and for Game Changers newsletter, thank you very much for your time.
Arie Kovant is the co-founder and Managing Partner of Catch New York.
After serving in the Israeli Air Force, and in a short stint at a large agency, Arie felt the need to find his own way and co-founded Alperin & Kovant, a boutique design shop which after 10 years was sold.
Arie started over again as the founder and President of AKA Advertising. The AKA team helped shape the growth of Foot Locker into a global footwear leader. Arie guided the company until its eventual acquisition by Nitro in 2007.
At Catch, Arie is focused on operations and client development, and can be expected to treat clients as he always has … like family.
Joe Perello is the co-founder and Managing Partner of Catch New York.
Prior to co-founding Catch, Joe was the first CMO of the City of New York, appointed by Mayor Michael R. Bloomberg.
Prior to that, Joe was VP of Business Development for the New York Yankees where he and his team helped double sponsorship revenue and sell a record number of tickets.
During the first dot-com boom, Joe was a principal in David Bowie's online music venture, UltraStar. He has spoken about marketing at Harvard, Stanford, and NYU and has written for the Sports Business Journal and Brandweek.
Doug Spitzer is the co-founder and Chief Creative Officer of Catch New York.
Prior to co-founding Catch, Doug was Senior Vice President, Creative Director with the Nitro Group where he was responsible for the agency's Foot Locker brand accounts, and its work with leading vendors Adidas, Nike, and Puma.
Doug was also the co-creator of the NFL's first fan development campaign, launching Pledge Allegiance and Feel the Power campaigns.
He has the distinction of consulting to all four major leagues on NFL retail, NBA cause campaign, MLB re-branding and an NHL Image campaign.
Doug's work has been recognized by NBC, the New York Times, USA Today, and the Wall Street Journal, and has received several advertising industry honors.