A Conversation with Austin McGhie
A conversation with Austin McGhie, president of the Strategy Group at Sterling Brands and author of the newly released, BRAND is a Four Letter Word.
Q. What motivated you to write this book and why now?
A. Part of the motivation was that my own industry was pissing me off. We have developed this horrible tendency to treat the B word, brand, as if it's some form of sacred object. Something to blindly worship. Something that can only be spoken of in vague, esoteric terms.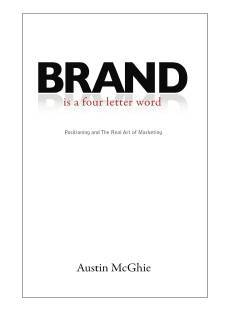 It often seems as if we've gone out of our way to disconnect from the day-to-day business realities of our clients. These clients are marketers. Business people. They need to position their products and services to their audience in ways that work to their advantage. If that position is clear, compelling and unique and if they stick to it for a while—they may build a strong brand. But we tend to be so focused on the outcome, the brand, that we don't help them with the important stuff: the positioning effort. That's what this book is really about. That effort to effectively create a position in a marketplace that just doesn't care if you succeed or fail.
The book is broken into 60+ topics. My hope is that working marketers will simply look up a topic, read a few pages, and then apply it to whatever they are doing that week.
Q. Why is brand a four-letter word?
A. So I could have a good title for my book! No, I actually do mean it, and I really am (slightly) pissed off at the "branding industry." First, the word should never—absolutely never—be used as a verb. As I say in the book, unless you're a rancher you can't brand something. There's no such thing as "branding."  If you position something effectively over time, you may build what we have decided to call a brand. It's the prize. It's a noun. Importantly, let's not treat it as an assumed business objective. The objective is to make more money in a sustainable manner. Building a brand is one available strategy. Yes, it's proven to be a very profitable strategy, but it's a strategy nonetheless.
As marketers we need to focus on the work that needs to be done. The work is positioning which creates "differentiated advantage." Positioning is about the creation and marketing of one idea that shouts out to your audience, grabs their attention away from others and says "here's how I'm different and better."
Q. What is your definition of "brand"?
A. My favorite is still: "A brand is present when the value of what something means to its audience is greater than the value of what it does for that audience." I like this one because it sounds nice and right to me, but as with most things brand, it's pretty vague. People in this industry will nod their heads and agree with it, but people outside this industry will probably ask what the hell I'm talking about. So I made up a different definition: "A brand is emotional shorthand for a wealth of assumed or understood information." This definition goes to the idea that in the bygone days of marketing consumers would use "the brand" as a navigational device, because all of the information they might have liked to have either wasn't available or wasn't worth searching for. Clearly, that's no longer the case. Emotional shorthand isn't as important when factual longhand is available.  Consumers can get all the facts with a couple of clicks, wherever and whenever they need it.
Q. In your book you state, "Positioning has nothing to do with communication." Could you elaborate on that?
A. Positioning is what you are, not what you say. A great position sits at the heart of an organization and drives everything it does, including communication. It's true to the culture that supports it, and it's true to the customer experience. It's real. Tangible. You can't just paint it on. As I say in the book – a duck that talks like a swan is just a well-spoken duck.
We've had a number of clients who have asked us to do positioning work for them. At the start of the project, they're looking for an idea to drive their marketing efforts. But, by the end of the process, they're looking at an idea that can guide and inspire their entire organization. Truly great brands are built from the inside out. If you can't guide and inspire your own people, how can you ever hope to guide and inspire the customer?
This is why most of the familiar case studies are examples of visionary entrepreneurs who started a company around a big idea, a vision. They hired people who shared the vision. They essentially built the company around the vision. Around the position. Around the brand. This isn't easy, and those that managed this feat (Jobs, Gates, Walton, Branson, et al.) are far outnumbered by those who failed. That said, it's a hell of a lot harder for a CEO or CMO to build a true brand position into a company that's already in motion. Brands positions, at their best, are bold strategic statements. Let's face it, bold strategies are few and far between, because bold managers are few and far between. Life tends to beat down the boldness and the need to be different — traits that are desperately needed for brand creation — out of all of us.
Q. You've developed brand strategy for all types of industries. How is technology different from any other kind of marketing?
A. The cool thing about technology companies from my point of view is that they're filled with really smart people. Not really smart marketers, really smart people and I mean that as a compliment.
The principles are the same, but the details can differ significantly, especially when you're dealing with a business-to-business brand. The stakes are often high, therefore the consideration process is complex. Relationships count, and you're often marketing both product and service. Technology markets just move faster than most, so if you don't see where the game is going and play the game where it is today, you're going to lose. Yes, it can get really complicated – but the most significant technology company just makes a better, more elegant, more intuitive product. They skate to where the puck will go. They play the game far better than anyone else.
Q. If a reader walks away from this book with only one idea, what idea would you like it to be?
A. Ignore all of the branding bullshit. Marketing is common sense, and your job is to use that common sense to position your product or service in a way that creates "differentiated advantage."  Find the one idea that shows you're different in a way that makes you better, then drive it home.
---
Austin McGhie is the president of the Strategy Group at Sterling Brands. Throughout his 30-year career, he ran marketing departments, sales forces and advertising agencies before slowly coming to the realization that he was really only good at strategy. Austin fervently believes that there is no marketing problem or opportunity that can't be framed as a positioning exercise. Austin's team at Sterling Brands works with some of the top marketers in the world, including Disney, ESPN, Nike, Google, Visa, Expedia, Best Buy, Microsoft, Anheuser-Busch, Abbott Labs and YouTube. Austin travels too much, but when he's home he lives in Northern California's Marin County with his wife, two children and dog. Austin can be reached at austin.m@sterlingbrands.com.
BRAND is a Four Letter Word is available now at Amazon.com.