| | |
| --- | --- |
| A Troyanos Group Ltd. Publication | Volume III, September 2011 |
The Troyanos Group is very proud to offer its friends a look inside Bob Herbold's new book, What's Holding You Back? As a former executive vice president and COO of Microsoft, Herbold is uniquely qualified as an expert in leadership and management. His thesis, that bold leadership is required to make the leap from organizational mediocrity to excellence, is one that will resonate with managers on all levels. We've found it to be an inspiring book, and we jumped at the chance to have Herbold distill his findings for our newsletter.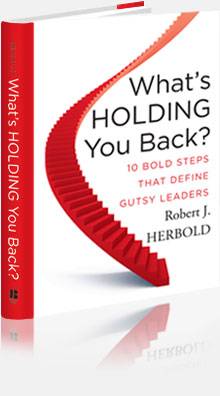 Excerpt: "All of us, as leaders of a group (or a department, or a division, or the whole company) have experienced the situation where you know what you need to do, but you also know these steps will be unpopular. The change may be so major many will think you are doing the wrong thing. And you worry that it might in fact be dead wrong. There may be people who will lose their job or need to be transferred elsewhere. Your boss may not be happy. Et cetera. A whole lot of managers, when faced with tough decisions, will crumble. They will decide to delay, further analyze, massively compromise, ignore the whole thing, or employ any other tactic to avoid dealing with the situation…."
The Troyanos Group, Ltd. is an Executive Search and Consulting firm specializing in Marketing and Marketing Communications.
https://troyanosgroup.com/